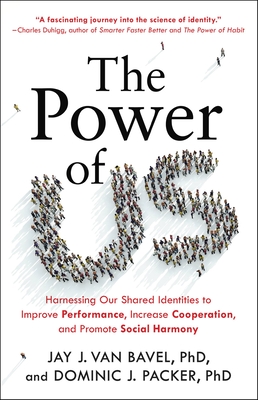 The Power of Us
Harnessing Our Shared Identities to Improve Performance, Increase Cooperation, and Promote Social Harmony
Hardcover

* Individual store prices may vary.
Other Editions of This Title:
Digital Audiobook (9/6/2021)
Compact Disc (9/7/2021)
Description
A "fascinating" (Charles Duhigg) and "must-read" (Annie Duke) "page-turning package" (Publishers Weekly starred review) for understanding identity and showing how our groups have a powerful influence on our feelings, beliefs, and behavior—and can inspire both personal change and social movements.
 
If you're like most people, you probably believe that your identity is stable. But in fact, your identity is constantly changing—often outside your conscious awareness and sometimes even against your wishes—to reflect the interests of the groups you belong to.
 
In The Power of Us, psychologists Dominic Packer and Jay Van Bavel integrate their own cutting-edge research in psychology and neuroscience to explain how identity really works and how to harness its dynamic nature to:
Boost cooperation and productivity
Overcome bias
Escape from echo chambers
Break political gridlock
Foster dissent and mobilize for change
Lead effectively
Galvanize action to address persistent global problems
 
Along the way, they explore such seemingly unrelated phenomena as why a small town in Germany spent decades divided by shoes, why beliefs persist after they are disproven, how working together synchronizes our brains, what makes selfish people generous, why effective leaders say "we" a lot, and how playing soccer can reduce age-old conflicts. 
 
Understanding how identity works allows people to take control, moving beyond wondering, "Who am I?" to answer instead, "Who do I want to be?"  Packed with fascinating insights, vivid case studies, and a wealth of pioneering research, The Power of Us will change the way you understand yourself—and the people around you—forever.
Praise For The Power of Us: Harnessing Our Shared Identities to Improve Performance, Increase Cooperation, and Promote Social Harmony…
The Power of Us is a fascinating journey into the science of identity. If you've ever struggled to understand why people join cults or mindlessly conform — or, have wondered how to build great teams and influence better choices, this is the book you need. It is a practical, entertaining and, above all, vital guide to human behavior.—Charles Duhigg, bestselling author of The Power Of Habit and Smarter Faster Better

"Better than I have ever seen, The Power of Us assesses the influence of tribalism on our actions and specifies ways to turn the force from destructive to constructive. A truly important book."—Robert Cialdini, author of Influence and Pre-Suasion

"As American politics shifts from fights over ideology and policies to conflict over basic identities, we increasingly need help from social psychologists to understand what is going on. The Power of Us is an excellent resource in filling this urgent need."—Francis Fukuyama, author of Identity

"The Power of Us is a must-read for understanding the deep impact our social nature has on our decision-making. Van Bavel and Packer take the reader on a fascinating journey through the science of identity, showing how our shared affiliations can both make us susceptible to groupthink and be a force to improve our decisions…if we know how to harness it."—Annie Duke, author of How to Decide and Thinking in Bets

"The Power of Us is brilliant, entertaining, and necessary. Jay Van Bavel and Dominic Packer explore humanity's complex relationship with identity through research that examines how an individual's self is derived from their social groups –– challenging our understanding of power and influence all while offering relevant ways for how we can use their findings to our advantage."—Arianna Huffington, Founder & CEO, Thrive Global

"In the 21st century, politics and social life have shifted to become ever more about identity. Those who read this book will understand the deep psychology of identity, and will therefore be less bewildered and more successful—not just in politics but in leadership of any kind, and even in the whirling identity pool of social media."—Jonathan Haidt, author of The Righteous Mind, co-author of The Coddling of the American Mind

"Providing a wealth of insight in a page-turning package, this timely survey hits the mark."—Publishers Weekly (starred review)

"The Power of Us compellingly debunks many of the myths that have arisen not only around social identity research but also around social psychology as a whole. Of these, the most enduring are those that paint groups as inevitable sites for corruption of self and loss of reason. The triumph of this book is how it shows that this framing is not only wholly wrong but also dangerously misleading…if we are to have functional and resilient organizations, institutions, and societies, we must understand and draw from the power of the collective mind."—Science

"Riveting and revelatory, splendidly written and filled with fascinating studies, The Power of Us shines a new, thought-provoking, and ultimately hopeful light on so much that is confusing and dismaying about our fraught world today."—Amy Chua, author of Battle Hymn of the Tiger Mother and Political Tribes: Group Instinct and the Fate of Nations

"Who am I? Is there anyone who hasn't asked themselves this question? But Jay Van Bavel and Dominic Packer have not only asked themselves this question, they've studied the psychology of identity for years and, as leaders in the field, have produced an authoritative guide that is remarkably accessible, actionable, and a pure joy to read!"—Angela Lee Duckworth, author of Grit
Little, Brown Spark, 9780316538411, 320pp.
Publication Date: September 7, 2021
About the Author
Jay Van Bavel is an Associate Professor of Psychology and Neural Science at New York University. From neurons to social networks, Jay's research investigates the psychology and neuroscience of implicit bias, group identity, team performance, decision-making, and public health. He lives in New York City with his family and pet hamster, Sunny, and once taught a class while trapped in an elevator with his kids.
 
Dominic Packer is a Professor of Psychology at Lehigh University. Dominic's research investigates how people's identities affect conformity and dissent, racism and ageism, solidarity, health, and leadership. He lives in eastern Pennsylvania with his family and dog, Biscuit.
 
Jay and Dominic received their PhDs from the University of Toronto, where they bonded in a shared sub-basement office. The Power of Us is their first book.