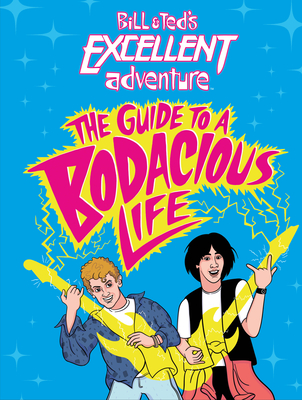 Bill & Ted's Excellent Adventure(TM) (Hardcover)
The Guide to a Bodacious Life
Little, Brown Books for Young Readers, 9780316538459, 48pp.
Publication Date: July 14, 2020
* Individual store prices may vary.
Description
Party on, dudes! This excellent book of wit and wisdom celebrates the genius of the world-famous Wyld Stallyns and their time-traveling adventure.
Once, Bill and Ted made history. Now, they're ready to share the knowledge they've gained traveling through time. This hardcover companion to
Bill & Ted's Excellent Adventure
and
Bill & Ted's Bogus Journey
features full-color film images and original illustrations and gives advice on how to live a non-heinous life, how to start a band when you can't play any instruments, how to find the most-triumphant locations in any food court, and how to make friends with difficult dudes -- from Genghis Khan to your history teacher! This collectible book is sure to become a most outstanding favorite, just like the excellent movies that inspired it.

Bill and Ted's Excellent Adventure characters and images (TM) & © 1989, 2020 Creative Licensing Corporation. All Rights Reserved.
Bill and Ted's Bogus Journey characters and images (TM) & © 1991, 2020 Creative Licensing Corporation. All Rights Reserved.
About the Author
Steve Behling
could beat the Grim Reaper in a game of Battleship or Clue, but his Electronic Football skills leave a lot to be desired. And Twister? Forget it. Regardless, he's written the completely bonkers junior novel adaptation of
Dora and the Lost City of Gold
, the original middle-grade novel
Avengers Endgame: The Pirate Angel, the Talking Tree, and Captain Rabbit
, and many issues of the official Disney DuckTales comic book. He also maintains www.thatsbelievable.com, a website full of made-up facts and essential weirdness. Steve lives in a top-secret subterranean lair with his wife, two human children, and three-legged wonder beagle, Loomis.
After starting his career as a graphic designer at award-winning studios in the Northeast (USA), Chris Piascik accidentally became an illustrator. He's pretty happy about that. This strange transformation was a result of his daily drawing project that he started in late 2007, in fact he's still posting a new drawing every day.