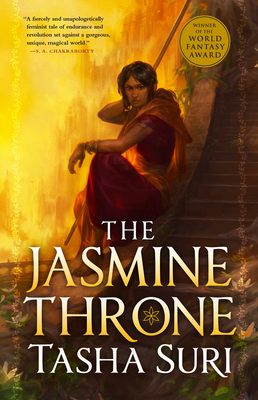 The Jasmine Throne (The Burning Kingdoms #1)
Paperback

* Individual store prices may vary.
Description
Tasha Suri's The Jasmine Throne begins the powerful Burning Kingdoms trilogy, in which two women—a long-imprisoned princess and a maidservant in possession of forbidden magic—come together to rewrite the fate of an empire.
Exiled by her despotic brother when he claimed their father's kingdom, Malini spends her days trapped in the Hirana: an ancient, cliffside temple that was once the source of the magical deathless waters, but is now little more than a decaying ruin.
A servant in the regent's household, Priya makes the treacherous climb to the top of the Hirana every night to clean Malini's chambers. She is happy to play the role of a drudge so long as it keeps anyone from discovering her ties to the temple and the dark secret of her past.
One is a vengeful princess seeking to steal a throne. The other is a powerful priestess seeking to save her family. Their destinies will become irrevocably tangled.

And together, they will set an empire ablaze.

"An intimate, complex, magical study of empire and the people caught in its bloody teeth. It's about resistance and power, histories both personal and political, and the heroes who must become monsters to survive. I loved it." —Alix E. Harrow, Hugo award-winning author ofThe Once and Future Witches
Praise For The Jasmine Throne (The Burning Kingdoms #1)…
"An intimate, complex, magical study of empire and the people caught in its bloody teeth. I loved it."—Alix Harrow, author of The Ten Thousand Doors of January, on The Jasmine Throne

"Like the magic in this tale of reclaiming power, The Jasmine Throne will work its way under your skin with Suri's compelling characters and gorgeous, effortless prose."
 —Sam Hawke, author of City of Lies, on The Jasmine Throne

"A poignant story of finding one's place in a world warped by prejudice, court intrigue, violence, and sorcery....Those with a penchant for lyrical prose, intricate world building, beautifully imagined characters, compelling immersive folklore, and a fascinating look into a setting reminiscent of the Mughal Empire need look no further."—Booklist (starred review) on Realm of Ash

"Suri's companion to Empire of Sand continues to expand on the stark beauty and power of this magical realm. With striking characters and court intrigue, this story is dark, melodious, and memorable."—Library Journal (starred review) on Realm of Ash

"A stunning and enthralling debut that thoroughly swept me away....A quiet, powerful and unexpected love story set in a crushing world of magic and tyrants, Empire of Sand is a gripping tale."—S. A. Chakraborty on Empire of Sand

"An ode to the quiet, fierce strength of women...pure wonder."—Samantha Shannon on Empire of Sand

"A darkly intricate, devastating, and utterly original story about the ways we are bound by those we love."—R. F. Kuang on Empire of Sand

"Genuine, painful, and beautiful. A very strong start for a new voice."—Kirkus (starred review) on Empire of Sand

"Complex, affecting epic fantasy.... Intricate worldbuilding, heartrending emotional stakes...well-wrought prose."—Publishers Weekly (starred review) on Empire of Sand
Orbit, 9780316538510, 512pp.
Publication Date: June 8, 2021
About the Author
Tasha Suri was born in London to Punjabi parents. She studied English and Creative Writing at Warwick University, and is now a cat-owning librarian in London. A love of period Bollywood films, history, and mythology led her to write South Asian-influenced fantasy.