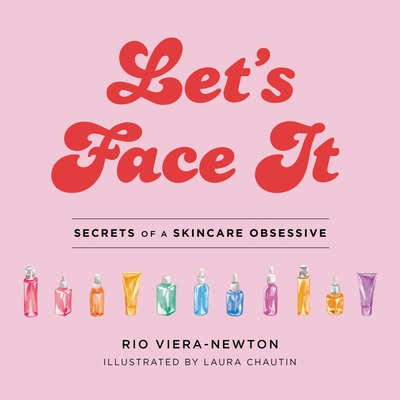 Let's Face It
Secrets of a Skincare Obsessive
Hardcover

* Individual store prices may vary.
Description
From New York Magazine's resident skincare obsessive, this friendly, start-where-you-are guide to the essentials of skincare helps readers cut through the noise to discover the routine that works for them. 
Skincare is one of the fastest-growing retail segments in the United States. But despite how much money Americans spend on products designed to tighten wrinkles, close pores, and increase hydration, there's little advice about how to figure out which one of a million eye creams will suit your skin and solve your particular skin health concerns.
Enter Rio Viera-Newton, the beauty-obsessed best friend whose advice drives thousands of readers to
New York
magazine every week. Despite her popularity and trust, she's not an MD or an esthetician, but a devoted amateur who organically rose to fame when her detailed Google Doc outlining the products that worked—or didn't—on her journey to heal her acne went viral.
Let's Face It
is a compendium of super-simple principles for healthy skin, helping readers move beyond branding or the recommendations of influencers to discover the remedies that will solve their skin concerns—and to find them in products at any price point. This book also includes:
Rio's five pillars of skin care
Fixes for issues on a skin-type by skin-type basis
Guidelines on how to layer your products for the most effective routine, day and night
A close look at the ingredients found in many skin care products
Tips and lessons from first-hand experience
An overview of a traditional Korean skin care routine
And much more
With concrete steps to walk readers through the process of adding products to their routine, evaluating the results, and developing the routine that best works for them,
Let's Face It
is the only book the skincare-obsessed reader really needs—and it's the perfect gift for the beauty fanatic in your life.
Praise For Let's Face It: Secrets of a Skincare Obsessive…
Fans of Viera Newton's Strategist column will recognize the writer's same conversational, just-your-BFF-giving-you-good-advice tone and wit on the pages of Let's Face It, accompanied by colorful, playful — yet thorough and scientifically informative — illustrations by Laura Chautin—Fashionista.com

[Let's Face It] not only distills the essence of [Viera-Newton's] column but also zooms out to address macro-beauty trends and issues, such as the push for sustainable, ethically-made skin care, and calls for greater transparency in product branding. Formatted as a small, extremely cute coffee table book, Let's Face It meets readers where they are, whether they have years of skin care experience or are just starting out...you'll come away with the tools to make more informed decisions as a consumer, regardless of what enticing-packaged brands throw your way.—Teen Vogue

According to her Instagram bio, Rio Viera-Newton is a self-professed "beauty nerd," and she's not wrong. Now, the writer is bringing her skin-care expertise to print... [Let's Face It] is packed with advice for beauty beginners and enthusiasts given in a friendly tone.—Popsugar

...one of the most comprehensive discussions of skin care we've ever read.—Goop


Rio Viera-Newton first made the list of her transformative skincare routine for close friends who kept asking how her skin got so clear, so even, so luminous. It was very no frills: a complete rundown of exactly what products she was using...Now, what she's learned from years of experience can be found in the pages of her new book...a gorgeously-illustrated (courtesy of Laura Chautin) and detailed guide to absolutely everything skincare.—Byrdie

"We all have that one friend who has all the beauty tricks and tips, plus the product recommendations to match. And New York Magazine's Rio Viera-Newton is that friend to all of us."—Sunday Edit
Voracious, 9780316540131, 208pp.
Publication Date: March 23, 2021
About the Author
Rio Viera-Newton is the skincare columnist for New York Magazine's The Strategist, where her column is frequently among the vertical's most-read content. She has been featured in The New Yorker, Into The Gloss,The Guardian, The Atlantic, Vice, and more.