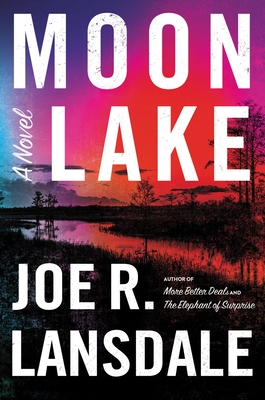 Moon Lake
Hardcover

* Individual store prices may vary.
Other Editions of This Title:
Digital Audiobook (6/21/2021)
Compact Disc (6/22/2021)
Description
From an Edgar award-winning author comes the gripping and unexpected tale of a lost town and the dark secrets that lie beneath the glittering waters of an East Texas lake.
Daniel Russell was only thirteen years old when his father tried to kill them both by driving their car into Moon Lake. Miraculously surviving the crash—and growing into adulthood—Daniel returns to the site of this traumatic incident in the hopes of recovering his father's car and bones. As he attempts to finally put to rest the memories that have plagued him for years, he discovers something even more shocking among the wreckage that has ties to a twisted web of dark deeds, old grudges, and strange murders.  
As Daniel diligently follows where the mysterious trail of vengeance leads, he unveils the heroic revelation at its core. 
Praise For Moon Lake…
"Lansdale nails the storyline, nails the suspense, seriously nails the dialogue and has created yet another character worthy of a series."—BookPage

"Daniel... is a winning mixture of curiosity, hesitancy, and gumption."—Sarah Weinman, New York Times Book Review

Praise for More Better Deals

"When funky books need to be written, Joe R. Lansdale writes them. . . . The plot is pure James M. Cain's The Postman Always Rings Twice, but steeped in hillbilly noir."—Marilyn Stasio, New York Times Book Review

"The prolific Mr. Lansdale…draws on the spirit and themes of James M. Cain in this stand-alone book, which works clever variations on such Cain classics as The Postman Always Rings Twice and Double Indemnity.
 —Tom Nolan, Wall Street Journal

"Lansdale really makes this used car purr."—Booklist (starred review)

"Highly enjoyable . . . Populated with an admirable array of laughable miscreants, this droll, savage novel is vintage Lansdale. The author's storytelling powers remain as strong as ever."—Publishers Weekly

" [A] down-and-dirty riff on Double Indemnity, a provocative new variation on James M. Cain's noir classic...an enjoyably cynical cruise down the back roads to perdition."—Lisa Henricksson, Airmail

"He's genre dextrous, moving fleetly between westerns, mysteries, thrillers, horror, sci-fi, literary fiction, and nonfiction, and doing it all extremely well."—Publishers Weekly

"Southern crime legend Joe Lansdale channels his best James M. Cain world vision...Readers can expect to be transported in the usual Lansdale fashion, as nobody does those East Texas period details quite like Lansdale, who always delivers with a finely-crafted, engaging, compulsive crime story in his home terrain."—Dwyer Murphy, CrimeReads
Mulholland Books, 9780316540643, 352pp.
Publication Date: June 22, 2021
About the Author
Joe R. Lansdale is the author of nearly four dozen novels, including Rusty Puppy, the Edgar-award winning The Bottoms, Sunset and Sawdust, and Leather Maiden. He has received nine Bram Stoker Awards, the American Mystery Award, the British Fantasy Award, and the Grinzane Cavour Prize for Literature. He lives with his family in Nacogdoches, Texas.