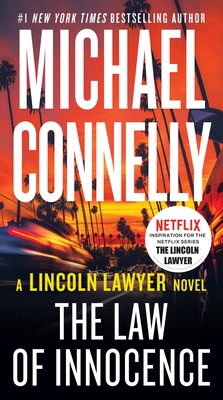 The Law of Innocence (A Lincoln Lawyer Novel)
Hardcover

* Individual store prices may vary.
Other Editions of This Title:
Hardcover (11/10/2020)
Paperback (4/27/2021)
CD-Audio (11/17/2020)
Description
Lincoln Lawyer Mickey Haller must defend himself against murder charges in the heart-stopping new thriller from #1 New York Times bestselling author Michael Connelly.

On the night he celebrates a big win, defense attorney Mickey Haller is pulled over by police, who find the body of a former client in the trunk of his Lincoln. Haller is immediately charged with murder but can't post the exorbitant $5 million bail slapped on him by a vindictive judge.
 
Mickey elects to represent himself and is forced to mount his defense from his jail cell in the Twin Towers Correctional Center in downtown Los Angeles. All the while he needs to look over his shoulder—as an officer of the court he is an instant target, and he makes few friends when he reveals a corruption plot within the jail.
 
But the bigger plot is the one against him. Haller knows he's been framed, whether by a new enemy or an old one. As his trusted team, including his half-brother, Harry Bosch, investigates, Haller must use all his skills in the courtroom to counter the damning evidence against him.
 
Even if he can obtain a not-guilty verdict, Mickey understands that it won't be enough. In order to be truly exonerated, he must find out who really committed the murder and why. That is the law of innocence.
 
In his highest stakes case yet, the Lincoln Lawyer fights for his life and proves again why he is "a worthy colleague of Atticus Finch... in the front of the pack in the legal thriller game" (Los Angeles Times).
Praise For The Law of Innocence (A Lincoln Lawyer Novel)…
"A wonderfully twisty legal thriller… As always, Connelly does a splendid job with both the courtroom drama and the suspenseful, often dangerous process behind it… He also skillfully weaves in references to the pandemic… by the end of the book, the full-blown pandemic sets the stage for an explosive finale."
—Colette Bancroft, Tampa Bays Times
"Stellar… As Connelly builds tension, he weaves in rumors of a spreading virus; people begin wearing masks and chaos erupts at the supermarket. Intelligently plotted, The Law of Innocence again proves Connelly is a master storyteller."
—Oline H. Cogdill, South Florida Sun Sentinel
"Gripping… Fans who snapped up Michael Connelly's recent Jack McEvoy crime novel, Fair Warning, are in for another treat from the blockbuster author."
—Christina Ianzito, AARP
"A supremely intelligent, well-paced courtroom thriller by a modern master… L.A. defense attorney Mickey Haller takes on the hardest case of his career in bestseller Connelly's superlative sixth Lincoln Lawyer novel." 
—Publisher's Weekly (starred review)
Praise for The Law of Innocence

"A fine legal thriller and a revealing character study… Connelly has always displayed great ability to write courtroom scenes, combining thrust-and-parry exchanges between defense and prosecution with a look at the personal motives driving all the players. He does all that here, too, but the extended focus on the pretrial discovery process, with Bosch and investigator Cisco Wojciechowski doing the legwork while Haller sits in jail, gives the novel a double-barreled appeal."
—Bill Ott, Booklist (starred review)
"A tightly crafted thriller, with some nice crossover flair to boot... Haller is the creation of legendary crime author, Michael Connelly, and has his own wildly popular series under his better known moniker, The Lincoln Lawyer."
—Dwyer Murphy, Crimereads
Praise for Michael Connelly

"There is no better news than a new book from the great Michael Connelly."
—Mike Lupica, New York Daily News
"Confession: I'm addicted to the crime fiction of Michael Connelly, with a bullet next to the page-turners featuring attorney Mickey Haller, defender of desperate scumbags and the occasional lost cause."
—Peter Travers, Rolling Stone
"Mickey Haller is the kind of slick, cynical showman who can't resist making high drama out of every routine legal procedure . . . But Connelly is himself a master manipulator, and there's always something deadly serious behind his entertaining courtroom high jinks."
—Marilyn Stasio, New York Times Book Review
"Taken together, Connelly's novels form an indispensable, compelling chronicle of LA . . . His books are rich in the details and meanings of seismic events that have formed the rough contours of LA law and order."
—Jonathan Shapiro, Los Angeles Times
"When it comes to series mysteries, there's everybody else, and then there's Michael Connelly. Is he really that good, you ask? Oh yeah, he's really that good."
—Bruce Tierney, BookPage
Little, Brown and Company, 9780316541732, 592pp.
Publication Date: November 10, 2020
About the Author
Michael Connelly is the author of thirty-four previous novels, including the New York Times bestsellers, Fair Warning, The Night Fire, and Dark Sacred Night. His books, which include the Harry Bosch series, the Lincoln Lawyer series, and the Renée Ballard series, have sold more than seventy-four million copies worldwide. Connelly is a former newspaper reporter who has won numerous awards for his journalism and his novels. He is the executive producer of Bosch, starring Titus Welliver, and the creator and host of the podcast Murder Book. He spends his time in California and Florida.