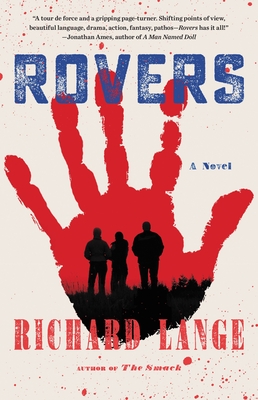 Rovers
Hardcover

* Individual store prices may vary.
Other Editions of This Title:
Digital Audiobook (7/26/2021)
Paperback (1/1/2030)
Description
Two immortal brothers crisscross the American Southwest to elude a murderous biker gang and protect a young woman in this "utter triumph and delight" from award-winning author Richard Lange (Jonathan Ames, author of A Man Named Doll)

Summer, 1976. Jesse and his brother, Edgar, are on the road in search of victims. They're rovers, nearly indestructible nocturnal beings who must consume human blood in order to survive. For seventy years they've lurked on the fringes of society, roaming from town to town, dingy motel to dingy motel, stalking the transients, addicts, and prostitutes they feed on.

This hard-boiled supernatural hell ride kicks off when the brothers encounter a young woman who disrupts their grim routine, forcing Jesse to confront his past and plunging his present into deadly chaos as he finds himself scrambling to save her life. The story plays out through the eyes of the brothers, a grieving father searching for his son's murderer, and a violent gang of rover bikers, coming to a shattering conclusion in Las Vegas on the eve of America's Bicentennial.

Gripping, relentless, and ferocious, Rovers demonstrates once again why Richard Lange has been hailed as an "expert writer, his prose exact, his narrative tightly controlled" (Steph Cha, Los Angeles Times).
Praise For Rovers…
"Want a book that will scare the daylights out of you this weekend? Rovers, by Richard Lange. The best vampire novel I've read since Let the Right One In."—Stephen King (on Twitter)

"Rovers is a lean, mean pulp masterpiece of American horror. I was blown away. Richard Lange is the real deal."—Joe Hill, author of Locke & Key and Nos4a2

"A swift, delicious novel that's firing on all cylinders… The book has a lot going on, with as many settings as characters, propelled by the jet fuel of resentments, assassinations-for-hire, mistakes, and love affairs. Lange balances it all perfectly. There are a few amazing fights too."—Carolyn Kellogg, Los Angeles Times

"Outstanding supernatural noir... Evocative prose illuminates the neon-lit world of small-town 1970s America. Lange succeeds brilliantly at combining the vampire and noir traditions."—Publishers Weekly (starred review)

"Rovers is a gritty and vivid encounter with the creatures that haunt the underbelly of Americana. Lange utilizes his immense skill with prose and characters to create a dynamic and visceral page-turner. I devoured this book!"—Zoje Stage, author of Baby Teeth and Wonderland

"Lange has done it again! Another tour de force! Another gripping page-turner! Shifting points-of-view, beautiful language, drama, action, fantasy, pathos—Rovers has it all! And it makes me feel greedy like a vampire (or a rover): I want and need another Richard Lange book right away! Well, I have to be patient and rational: I have his other books to reread and this one, too, which is an utter triumph and delight."—Jonathan Ames, author of A Man Named Doll and creator of HBO's Bored to Death

"The gone world of the 1970s goes beautifully, terrifyingly and oh so satisfyingly bad in this new one by Richard Lange. Propulsive, intense, smart and stylish, Rovers is high-octane, full-throttle, keep-your-hands-off-that-lightswitch stuff."—Laird Hunt, author of In the House in the Dark of the Woods and Neverhome

"Rovers is not your ordinary vampire novel. Richard Lange has written a gritty, dusty, dirty, and sweaty thriller that reeks of blood and fear. Rovers is a hardcore 1970s crime thriller—a bloody revenge story built on the brooding realization that even with eternal life and incredible healing power, existence and spirit are always fragile."—Raymond A. Villareal, author of A People's History of the Vampire Uprising

"Rovers is a dark gem of a book. A vampire novel by way of John Steinbeck and Sam Peckinpah. Riveting and relentless."—Wallace Stroby, author of Heaven's a Lie

"Reading Rovers was like going on a three-day bender: once I got started, I couldn't stop. Rovers is a bleak, gritty, violent, and mostly tender portrayal of life as an outsider that happens to be about vampires. The writing is equal to the story: achingly beautiful, by turns inspiring and devastating."—Alma Katsu, author of The Hunger and The Deep

"A propulsive, harrowing and soulful tale of vengeance and redemption, love and loss, the undead and mortals. Rovers moves in the shadows and rips through the darkest hours on choppers and over open highways, in dive bars and deserts. The momentum of the story is undeniable, but the impulse to linger under the spell cast by Lange's gifts with language is powerful and to be savored."—Joe McGinnis, Jr., author of The Delivery Man
Mulholland Books, 9780316541961, 304pp.
Publication Date: July 27, 2021
About the Author
Richard Lange is the author of the story collections Dead Boys and Sweet Nothing and the novels This Wicked World, Angel Baby, and The Smack. He is the recipient of a Guggenheim Fellowship, the International Association of Crime Writers' Hammett Prize, a Crime Writers' Association Dagger Award, and the Rosenthal Family Foundation Award from the American Academy of Arts and Letters. He lives in Los Angeles.