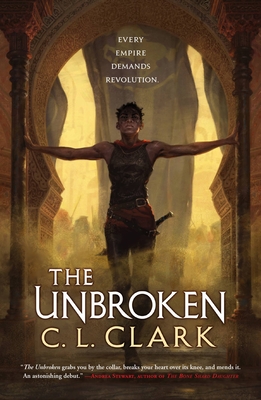 The Unbroken (Magic of the Lost #1)
Paperback

* Individual store prices may vary.
Other Editions of This Title:
Digital Audiobook (3/22/2021)
Description
On the far outreaches of a crumbling desert empire, two women--a princess and a soldier--will haggle over the price of a nation in this richly imagined, breath-taking sapphic epic fantasy filled with rebellion, espionage, and assassinations.
 Touraine is a soldier. Stolen as a child and raised to kill and die for the empire, her only loyalty is to her fellow conscripts. But now, her company has been sent back to her homeland to stop a rebellion, and the ties of blood may be stronger than she thought. Luca needs a turncoat. Someone desperate enough to tiptoe the bayonet's edge between treason and orders. Someone who can sway the rebels toward peace, while Luca focuses on what really matters: getting her uncle off her throne. Through assassinations and massacres, in bedrooms and war rooms, Touraine and Luca will haggle over the price of a nation. But some things aren't for sale.

"A perfect military fantasy: brutal, complex, human and impossible to put down." - Tasha Suri, author of Empire of Sand
Praise For The Unbroken (Magic of the Lost #1)…
"C.L. Clark gives us an unflinching story of colonialism and revolution and the people caught between. The Unbroken grabs you by the collar, breaks your heart over its knee and mends it. An astonishing debut."—Andrea Stewart, author of The Bone Shard Daughter

"Rife with political, familial, and romantic tension, The Unbroken is a riveting epic fantasy about a city on the knife's edge of rebellion, a tangle of alliances, and a desperate search for magic and hope."—K.A. Doore, author of The Perfect Assassin

"Get ready to fall in love with Touraine and Luca in one of the best fantasy debuts I have ever read!"—Matt Wallace, Hugo Award winner and author of the Savage Rebellion series

"A bold and exciting work that helps steer the evolution of the genre into the next decade."—Marshall Ryan Maresca, author of the Maradaine novels

"The Unbroken grabs you by the throat and doesn't let go. A perfect military fantasy: brutal, complex, human, and impossible to put down."—Tasha Suri, author of The Jasmine Throne

"With its incisive look at the irreconcilable conflicts that colonialism wedges between desire, duty, individuality, and community, C.L. Clark's The Unbroken is a compelling and persuasive reimagining of both heroism and heroics as something inseparable from identity, perspective, and history. It's a deeply needed look at the myths we make, the stories we tell, and the bitterly binding ties of both blood and bondage."—Evan Winter, author of The Rage of Dragons

"The Unbroken is a thrilling examination of love and loyalty under the crushing weight of empire. It's high adventure on a human scale--don't miss it."—Alix E. Harrow, author of The Ten Thousand Doors of January

"C L Clark's epic fantasy debut reveals all the ugly, painful, deeply personal complexities of revolution against empire, captured in shimmering pointillist detail. I'm in awe!"—Shelley Parker-Chan, author of She Who Became the Sun

"It doesn't take long to realize The Unbroken is something special. I'm going to need the second book ASAP"—David Dalglish, author of The Bladed Faith

"This strong debut is filled with exciting action and worldbulding, intriguing characters dealing with themes of colonization, military conscription and indoctrination, and an explosion of feelings. Readers will be clamoring for more of Touraine and Luca before they finish."—Library Journal

"Clark conjures an elaborate fantasy world inspired by Northern Africa and delves into an international political conflict that draws on real histories of colonialism and conquest in their excellent debut... Clark's precise, thorough worldbuilding allows this remarkable novel to dive deep into the intricate workings of colonialism, exposing how power structures are maintained through social conditioning and exploring the emotional toll of political conflict. The result is a captivating story that works both as high fantasy and skillful cultural commentary."—Publishers Weekly
Orbit, 9780316542753, 544pp.
Publication Date: March 23, 2021
About the Author
Cherae graduated from Indiana University's creative writing MFA. She's been a personal trainer, an English teacher, and an editor, and is some combination thereof as she travels the world. When she's not writing or working, she's learning languages, doing P90something, or reading about war and [post-]colonial history. Her short fiction has appeared in Beneath Ceaseless Skies, FIYAH, PodCastle and Uncanny. You can follow her on Twitter @c_l_clark.