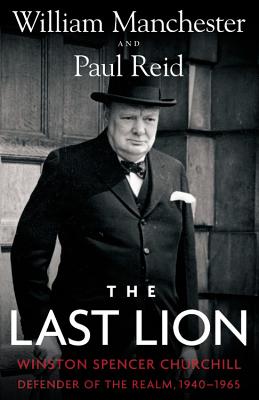 The Last Lion
Winston Spencer Churchill: Defender of the Realm, 1940-1965
Hardcover

* Individual store prices may vary.
Other Editions of This Title:
MP3 CD (1/1/2008)
Audio Cassette (12/1/1990)
Audio Cassette (12/1/1990)
Audio Cassette (12/1/1990)
Description
The long-awaited final volume of William Manchester's legendary biography of Winston Churchill.

Spanning the years of 1940-1965, The Last Lion picks up shortly after Winston Churchill became Prime Minister-when his tiny island nation stood alone against the overwhelming might of Nazi Germany. The Churchill conjured up by William Manchester and Paul Reid is a man of indomitable courage, lightning-fast intellect, and an irresistible will to action.

The Last Lion brilliantly recounts how Churchill organized his nation's military response and defense, compelled FDR into supporting America's beleaguered cousins, and personified the "never surrender" ethos that helped the Allies win the war, while at the same time adapting himself and his country to the inevitable shift of world power from the British Empire to the United States.

More than twenty years in the making, The Last Lion presents a revelatory and unparalleled portrait of this brilliant, flawed, and dynamic leader. This is popular history at its most stirring.
Praise For The Last Lion: Winston Spencer Churchill: Defender of the Realm, 1940-1965…
"[Reid's] palpable enthusiasm at thinking about Churchill demonstrates once again...the grip this iconic figure can still exercise on the imagination....Reid...use[s] his journalist's eye to pick up on small details or points of color that illustrate a wider truth."
—
Richard Aldous, New York Times Book Review
"Masterful.... It was worth the wait.... The collaboration completes the Churchill portrait in a seamless manner, combining the detailed research, sharp analysis and sparkling prose that readers of the first two volumes have come to expect."
—
Associated Press
"Mr. Reid...following Manchester's lead,...dutifully includes both the admiring and disparaging remarks of Churchill's colleagues and contemporaries, presenting everyone's take with equanimity."
—
Wall Street Journal
"This book is superb. It has tremendous pace, rich detail and immense drama."
—
Washington Post
"Reid has produced a third Last Lion...that is both magisterial and humane. Cue the trumpets."
—
Vanity Fair
"It's a must-read finale for those who loved Manchester's first two books."
—
USA Today
"The final volume of Manchester's life of Winston Churchill is majestic and inspiring."
—
People
"Masterful... [and] breathtaking....Reid...finished the race with agility, grace, and skill....This is a book that is brilliant and beautiful, evocative and enervating."
—
Boston Globe
"Reid has produced a volume about the climax of Churchill's career which ably captures the fullness of the story.... Reid's narrative...is straightforward, well written, and compelling."
—
Steven F. Hayward, The Weekly Standard
"The long-delayed majestic account of Winston Churchill's last 25 years is worth the wait....Manchester (and Reid) matches the outstanding quality of biographers such as Robert Caro and Edmund Morris, joining this elite bank of writers who devote their lives to one subject."
—
Publishers Weekly
"Those who want a detailed account of Churchill's two terms as prime minister and leadership during World War II will find this book a literary feast.....It's a worthy finale to an exhaustive portrait of one of the last century's true titans."
—
Washington Times
"This is surely the best installment of the [series]....Reid has written a winning, full-blooded biography."
—
Newsday
"Reid has written a thorough and complete analysis of these years, and it is a worthy finale to the first two volumes."
—
Terry Hartle, Christian Science Monitor
"Reid learned well from Manchester, and the finished book is a worthy conclusion to what must be considered one of the most thorough treatments of Churchill so far produced. An essential conclusion to Manchester's magnum opus."
—
Library Journal (starred review)
"A distinguished contribution to Churchilliana, giving a lively, fully rounded account that maintains its balance even while it sustains an admiring legend of the great man."
—
Michael Marrus
,
Globe and Mail
"[Reid] keeps the 1,000-plus pages turning....[he] has heeded the words of his subject, and brought the decades-long project begun by his mentor to a dignified conclusion."
—
Dan DeLuca, Philadelphia Inquirer
"Reid completes William Manchester's work in excellent, memorable fashion."
—
Emmett Tyrrell, American Spectator
"The third and final volume of a massive work of biography is a tribute not only to Manchester but also to Reid, whose courage in accepting the job is matched by his success in telling the story."
—
Richmond Times-Dispatch
"Critics and Churchill fans are calling it a terrific effort that was worth the wait."
—
Cleveland Plain-Dealer
"Churchill was the greatest man of the last century and this is the greatest biography of him."
—
John Lescroart
,
The Sacramento Bee
"[Reid] turned in a book that is well worth the wait. A large part of Manchester's popularity is the accessibility of his books. Reid has preserved that and ensured that Churchill's personality-not just his actions-come through."
—
Charlotte Observer
"[An] in-depth narrative that nicely conveys the challenges facing Churchill....Impressive."
—
Bloomberg Businessweek
"
Defender of the Realm
is a worthy addition to the set... This accomplishment elevates Reid to a high rank among American writers of biography and history - and makes him a literary asset for North Carolina."—
Doug Clark, Greensboro News and Record
"Readers...will be taken by [Manchester's] boundless abilities as a storyteller."
—
Kirkus Reviews
"Reid's got the research right, down to the day, down to the minute...As Reid chronicles Churchill's private aspects-his wittiness, sybaritic consumption of scotch and cigars, and moods bordering on depression...Manchester was one of the best Churchill biographers, and this capstone to his magnum opus ought not to be missed."
—
Booklist
"Magnificently delineated....The story of Churchill and Britain in the Second World War...is vividly evoked by Manchester and Reid."
—
Winnipeg Free Press
"This is a big, rich savory stew of a book...deeply satisfying for those who have waited too long to be told-again-how The Last Lion finally ends."
—
MacKenzie Carpenter, Pittsburgh Post-Gazette
"True,
Defender of the Realm
is a big book. But Winston Churchill was a big man. Read all about him."—
St. Louis Post-Dispatch
"Reid masters the details and sweep of an extraordinary story."
—
Minneapolis Star-Tribune
"This biography has the dramatic punch of a great novel."
—
Newark Sunday Star Ledger
"This book brilliantly recounts how Churchill organized his nation's military response and defense."
—
Ernie Arico
,
The Daytona Beach News-Journal
"This book reminds us to remember...[Churchill's] iron will and ability to focus."
—
Bob Schieffer, CBS's Face the Nation
"The third and final volume...presents a revelatory and unparalleled portrait of a brilliant, flawed and dynamic leader."
—
Betsy Teter, Tryon Herald-Journal
"Of five notable books about Churchill in recent years, the most remarkable is William Manchester and Paul Reid's
Defender of the Realm
."—
Dennie Hall, The Oklahoman
"[A] wonderful literary work."
—
Bill Marriott, Huffington Post
Little, Brown and Company, 9780316547703, 1232pp.
Publication Date: November 6, 2012
About the Author
William Manchester was a hugely successful popular historian and biographer whose books include The Last Lion, Volumes 1 and 2, Goodbye Darkness, A World Lit Only by Fire, The Glory and the Dream, The Arms of Krupp, American Caesar, The Death of the President, and assorted works of journalism.

Paul Reid is an award-winning journalist. In late 2003 his friend, William Manchester, in failing health, asked Paul to complete The Last Lion: Defender of the Realm. He lives in North Carolina.
or
Not Currently Available for Direct Purchase