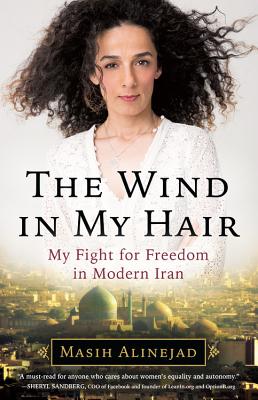 The Wind in My Hair (Hardcover)
My Fight for Freedom in Modern Iran
Little, Brown and Company, 9780316548915, 400pp.
Publication Date: May 29, 2018
Other Editions of This Title:
Digital Audiobook (5/28/2018)
Pre-Recorded Audio Player (8/1/2018)
Compact Disc (5/29/2018)
Compact Disc (5/29/2018)
* Individual store prices may vary.
Description
An extraordinary memoir from an Iranian journalist in exile about leaving her country, challenging tradition and sparking an online movement against compulsory hijab.

A photo on Masih's Facebook page: a woman standing proudly, face bare, hair blowing in the wind. Her crime: removing her veil, or hijab, which is compulsory for women in Iran. This is the self-portrait that sparked 'My Stealthy Freedom,' a social media campaign that went viral.

But Masih is so much more than the arresting face that sparked a campaign inspiring women to find their voices. She's also a world-class journalist whose personal story, told in her unforgettably bold and spirited voice, is emotional and inspiring. She grew up in a traditional village where her mother, a tailor and respected figure in the community, was the exception to the rule in a culture where women reside in their husbands' shadows.

As a teenager, Masih was arrested for political activism and was surprised to discover she was pregnant while in police custody. When she was released, she married quickly and followed her young husband to Tehran where she was later served divorce papers to the shame and embarrassment of her religiously conservative family. Masih spent nine years struggling to regain custody of her beloved only son and was forced into exile, leaving her homeland and her heritage. Following Donald Trump's notorious immigration ban, Masih found herself separated from her child, who lives abroad, once again.

A testament to a spirit that remains unbroken, and an enlightening, intimate invitation into a world we don't know nearly enough about, The Wind in My Hair is the extraordinary memoir of a woman who overcame enormous adversity to fight for what she believes in, and to encourage others to do the same.
About the Author
Masoumeh (Masih) Alinejad-Ghomi was born in 1976 in Ghomikola, Babol. She is an award-winning Iranian journalist, broadcaster, blogger and founder of the My Stealthy Freedom movement. A 2011 graduate of Oxford Brookes University, Alinejad currently reports and presents a weekly TV segment on VOA, called Tablet, where she mixes hard news and satire. Masih has been published in a variety of newspapers and magazines, including Huffington Post, Time magazine and the Washington Post. She lives in Brooklyn, New York.
Praise For The Wind in My Hair: My Fight for Freedom in Modern Iran…
"Told poignantly and
with a blunt honesty that seems a characteristic of Alinejad's life and
writing, here is a gripping tale that permits us to peek at the inner workings
of the Iranian Revolution and consider the question of its health and
longevity."
—
New York Times Book Review
""The Wind in My Hair"... paints a vivid portrait of modern Iran...The
book comes at a time of renewed energy within the feminist movement, and Ms.
Alinejad believes that the book's themes transcend borders."
—
New York Times
"Alinejad's experiences make for a compelling and eye-opening read."
—
Christian Science Monitor
"Women all over Iran risked imprisonment and even their lives and safety to post pictures. Alinejad's stories of her illustrious career as a groundbreaking journalist challenging the Islamic Republic make for a fascinating narrative."
—
Publisher's Weekly
"[Masih's] descriptions of life as a journalist and activist will captivate readers interested in Iran, international affairs, gender equality, and human rights."
—
Booklist
"Alinejad's account provides a timely glimpse behind the Iranian curtain."
—
Kirkus
"Masih Alinejad is a
fearless champion for women's rights. She built her career as a reporter
uncovering powerful truths and writing passionately in support of human rights
in a country where doing so meant risking one's freedom and safety. Her book is
a must-read for anyone who cares about women's equality and autonomy-in Iran,
the United States, and everywhere."
—
Sheryl Sandberg, COO of Facebook and Founder of LeanIn.Org and OptionB.Org
"Masih Alinejad's
personal story is intriguing and inspiring. For her freedom is not just
political but existential, which is why Masih's voice is so important to Iran's
civil society and the Iranian people's struggles for freedom and democracy."
—
Azar Nafisi, author of Reading Lolita in Tehran and The Republic of Imagination
"With mighty
righteousness on her side and bravery in her heart, Masih Alinejad is a
flame-thrower for the rights of all women who live under the thumb of
repression and injustice."
—
Tina Brown, author of The Vanity Fair Diaries
"Masih Alinejad's
inspiring journey from an ordinary working-class village girl in Iran into a
transnational activist-journalist is a testimony to not only her talents and
passionate dedication to equal rights, but also to the aspiration and
determination of many Iranian women whose stories are recounted by her. Masih's
courageous journey is part of a growing women's rights movement that resonates
with women everywhere."
—
Nayereh Tohidi, Director, Middle Eastern and Islamic Studies at California State, Northridge
Coverage from NPR