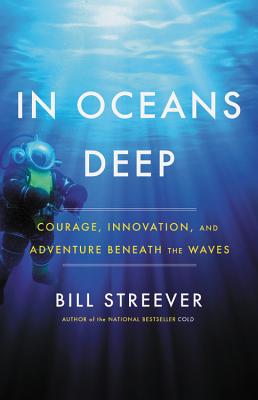 In Oceans Deep
Courage, Innovation, and Adventure Beneath the Waves
Hardcover

* Individual store prices may vary.
Other Editions of This Title:
Digital Audiobook (7/1/2019)
Paperback (6/9/2020)
Compact Disc (7/2/2019)
Compact Disc (7/2/2019)
Description
In this masterful account in the spirit of Bill Bryson and Ian Frazier, a longtime deep-sea diver masterfully weaves together the science and history of Earth's last remaining frontier: the sea.
In an age of unprecedented exploration and innovation, our oceans remain largely unknown, and endlessly fascinating: full of mystery, danger, beauty, and inspiration. In Oceans Deep celebrates the daring pioneers who tested the limits of what the human body can endure under water: free divers able to reach 300 feet on a single breath; engineers and scientists who uncovered the secrets of decompression; teenagers who built their own diving gear from discarded boilers and garden hoses in the 1930s; saturation divers who lived under water for weeks at a time in the 1960s; and the trailblazing men who voluntarily breathed experimental gases at pressures sufficient to trigger insanity.
Tracing both the little-known history and exciting future of how we travel and study the depths, Streever's captivating journey includes seventeenth-century leather-hulled submarines, their nuclear-powered descendants, a workshop where luxury submersibles are built for billionaire clients, and robots capable of roving unsupervised between continents, revolutionizing access to the ocean.
In this far-flung trip to the wild, night-dark place of shipwrecks, trapped submariners, oil wells, innovative technologies, and people willing to risk their lives while challenging the deep, we discover all the adventures our seas have to offer -- and why they are in such dire need of conservation.
Praise For In Oceans Deep: Courage, Innovation, and Adventure Beneath the Waves…
"A broad-spectrum
examination of underwater adventuring...Mr. Streever's writing is lucid on
subjects ranging from gas chemistry to dredging to underwater robotics."—Wall Street Journal

"A fascinating...journey for readers into a little-known world."—Anchorage Daily News

"A fine writer with genuine sea credentials...Streever's book makes clear that the deep, though much closer to us, is still tantalizingly distant."—Natural History Magazine

"In this homage-cum-history of human endeavor in the ocean
depths, biologist, writer and diver Bill Streever brings to light a region
less explored than the Moon."—Nature Magazine

"With a real knack for
storytelling, Streever evocatively puts the reader in the helmets, flippers,
and submersibles of sea explorers throughout history...Streever crafts a book to
be enjoyed by divers and general readers alike."— Publishers Weekly

"Ultimately, this timely and richly told story became something the author did not intend: an invaluable survey of how much damage has

been done and how much we will lose if we don't protect the seas."—Booklist

"A
buoyant, at times thrilling, account of the deep sea experience, perfect for
divers and other lovers of life beneath the waves."— Kirkus Review

"Streever
tells a story that captures human fascination with the ocean, and encourages
readers to become more interested in what lies beneath the waves."—Shelf Awareness

Bill Streever has written a gripping and important book about the sea,
its science, and the technologies we've invented to begin to experience it, but
also about our own humanity-and our future. I loved following him on this
extraordinary deep dive into the largest and still most mysterious realm of
this incredible planet we all share—JuliBerwald, author of Spineless

In Oceans Deep combines painstaking research with narrative flair and a genuine love for the subject...It is both an education and a terrific read—ChrisWright journalist and author of No MoreWorlds to Conquer

A
beautifully written and thrilling exploration of humanity's place in the depths
by a master interpreter who has spent a lifetime face-to-face with the
shipwrecks, animals, machines, daring souls, and enduring mysteries that
populate this gorgeous, hidden world."—RobertKurson, New York Times bestselling author of Shadow Divers and Rocket Men

Exquisitely researched and written, I highly recommend In Oceans Deep—Jonathan White, author of Tides: The Science and Spirit of the Ocean

Bill
Streever takes us on an entertaining and richly informative journey into the
marine frontier. I recommend this book to anyone who may wish to be awed, and
perhaps disturbed, by the depths to which humans will go to explore it."—JonathanBalcombe, author of What a Fish Knows
Little, Brown and Company, 9780316551311, 320pp.
Publication Date: July 2, 2019
About the Author
Bill Streever is the bestselling and award-winning author of And Soon I Heard a Roaring Wind, Cold, and Heat. As a biologist, he has worked on issues ranging from climate change to the restoration of Arctic tundra to underwater noise to the evolution of cave crayfish. With his wife and co-captain, he splits his time between Alaska and their cruising sailboat, currently in Central America.