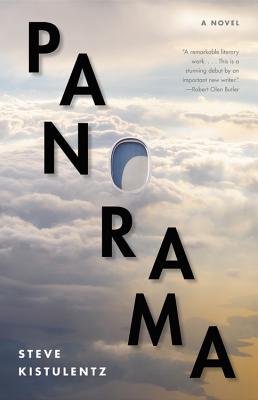 Panorama
Hardcover

* Individual store prices may vary.
Other Editions of This Title:
Digital Audiobook (3/5/2018)
Compact Disc (3/6/2018)
Compact Disc (3/6/2018)
Description
Richard MacMurray, a cable news talking head, is paid handsomely to pontificate on the issues of the moment. On New Year's Day he is scheduled to be a guest on a prominent morning talk show. As he awaits the broadcast, the network interrupts with news that a jet airliner has crashed in Dallas and that everyone aboard has perished.

Within an hour, amateur videotape surfaces of the plane's last moments, transforming the crash into a living image: familiar, constant, and horrifying. Richard learns that his sister, Mary Beth, was aboard the doomed flight, leaving behind her six-year-old son, Gabriel. Richard is the boy's only living relative. When he is given an opportunity to bring Gabriel home, it may be that the loss of his sister will provide him with the second chapter he never knew he wanted.

In this powerful debut, Steve Kistulentz captures the sprawl of contemporary America -- its culture, its values, the workaday existence of its people -- with kaleidoscopic sweep and controlled intensity. Yet within the expansive scope of Panorama lies an intimate portrait of human loss rendered with precision, humanity, and humor.
Praise For Panorama…
"Pensive
novel...Kistulentz is most persuasive with the nuts and bolts of the crisis
machine."—Jan Stuart, New York Times Book Review

"In Panorama, Steve Kistulentz explores American values and culture and how human loss transforms other humans. This fast-paced novel is equally soul-searing...A great and promising debut novel that will overwhelm you as soon as you start reading it."—The Washington Book Review

"PANORAMA is a remarkable literary work, rare in its ability to be both thematically complex and a compelling read. Steve Kistulentz remarkably transforms our TV culture's participatory tragedy into a deep meditation on human connectedness. This is a stunning debut by an important new writer."
—Robert Olen Butler, Pulitzer Prize-winning author of A Good Scent from a Strange Mountain

"Written with an intimate precision, Panorama brings tremendous compassion to people we take for granted ...This book, with its enormous ambition, serves to remind us that it's necessary and human to feel."—Chris Offutt, author of Kentucky Straight

"Panorama lives up to its title. This is a novel aswim in language, in drama, in character -- it has the kind of bigness we too rarely see in fiction anymore. Steve Kistulentz is a hell of a writer, and this is a hell of a hard book to put down."—Darin Strauss, NationalBook Critics Circle Award winner for Half a Life

"It has been said that a good novelist is also by default a first-rate sociologist and psychologist, too -- along with being a magician. Panorama perfectly exemplifies this truth. In sharp, smart prose, Steve Kistulentz portrays the terrible strands of tragedy. The result is an engrossing, powerful, capacious novel, and a very impressive debut."—Richard Bausch, PEN/Malamud Award-winning author of Peace

"A
heartbreaking but ultimately heartfilling day in the life of a country in
existential crisis, a panorama of points of view, and a novel about the ways we
lose and find one another. Just read it."—Tom Franklin, New York Times bestselling author of CrookedLetter, Crooked Letter

"Fast-paced, energetic, searing. There are moments in Steve Kistulentz's Panorama that will take your breath away."—Daniel Alarcón, author of Lost City Radio

"Panorama Flight 503 Salt Lake City to Dallas lifts off on a gorgeously clear New Year's Day morning--a day on the calendar traditionally marked for optimism, reflection, and new beginnings. With new beginnings, however, come endings, and this powerful debut novel concerns itself with both. Flight 503 never makes it to Dallas, crashing violently and exploding into flames after a mechanical malfunction renders the pilots helpless. Set the year before 9/11, the story follows the impact of this tragic event on a single family. Kistulentz, who has published two books of poetry (The Luckless Age and Little Black Daydream) tells the tale beautifully. At the center is single mom Mary Beth, who is aboard the flight, leaving behind six-year-old son Gabriel and brother Richard, who will take custody of the child. This is a work about contingencies and asymmetrical events in every day life--events that are beyond our control. It is also a deeply moving meditation on the nature of family and home and a celebration of our redeeming capacity for optimism in the face of tragedy, hardship, and loss. Enthusiastically recommended for fans of literary fiction."—Patrick Sullivan, Library Journal

"Kistulentz confidently sets up and populates the panorama of the book's title...This book has the architecture of a great novel...A writer worth watching."—Kirkus Reviews

"Poignant...A lyrical and moving debut novel."—Publishers Weekly

"An interesting delve into lives that haven't exactly gone as planned...Readers of character-driven fiction who appreciate a happy ending will enjoy Panorama."—Kathy Sexton, Booklist
Little, Brown and Company, 9780316551762, 400pp.
Publication Date: March 6, 2018
About the Author
Steve Kistulentz is a graduate of the Iowa Writers' Workshop and Florida State University. His fiction has appeared, among other places, in Narrative and a special issue of Mississippi Review on emerging writers guest edited by Rick Moody. He is also the author of two books of poetry: The Luckless Age, which won the Benjamin Saltman Award, and Little Black Daydream. The director of the graduate creative writing program at Saint Leo University in Florida, he lives in Tampa and is currently working on a second novel.
or
Not Currently Available for Direct Purchase