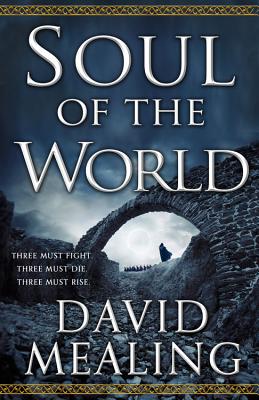 Soul of the World (The Ascension Cycle #1)
Paperback

* Individual store prices may vary.
Other Editions of This Title:
Digital Audiobook (6/26/2017)
Description
Starvation and corruption have pushed the citizens of the New Sarrisant to the brink of rebellion. It will take only a spark to tip the scales towards violence, but as the Great Barrier weakens and rare arcane powers return to the land, war seems a foregone conclusion in David Mealing's cinematic debut epic fantasy.

The Great Barrier has kept the colonies of the new world safe for hundreds of years. But the colony is a powder keg. Food shortages stir the citizens to riots against the crown. Dissidents whisper of revolution. And worse, the strength of the Great Barrier seems to be slipping.

Sarine is a street artist, selling her sketches for coin to feed her family. With the help of her magic powers, she's so far been able to escape the notice of the city police. But a strange man with powers more terrifying than her own threatens to expose her secrets.

And she's not the only one whose life threatens the strange figure threatens to upend.

Start reading this incredible addition to the epic fantasy canon. For fans of Brandon Sanderson, Brent Weeks, and Brian McClellan.
Praise For Soul of the World (The Ascension Cycle #1)…
"A great epic fantasy debut. Memorable characters, intriguing magic systems and a well-realised world"—James Islington

"The first book in The Ascension Cycle is an impressive fantasy debut with three main compelling characters and a unique magic system sure to capture a fantasy reader's attention . . . . Mealing does a fabulous job with the intricate world-building and leaves the reader wanting to get their hands on the sequel."—RT Book Reviews

"Imaginative and elaborate epic fantasy debut . . . Strong characters and rich worldbuilding."
—Publishers Weekly

"A story of magic, ambition, greed, betrayal, and war."—Booklist

"I was blown away by how much I enjoyed it . . . . Soul of the World is a magical book, almost overflowing with originality."—The Quill to Live

"A riveting debut. It's got everything I could possibly want in a fantasy book."—Powder & Page Book Reviews

"The magic systems in this book are epic and the comparison to Sanderson and Rothfuss is quite deserved."—On Starships and Dragonwings Book Reviews
Orbit, 9780316552332, 656pp.
Publication Date: June 27, 2017
About the Author
David Mealing grew up adoring all things fantasy. He studied philosophy, politics and economics at the University of Oxford, where he taught himself to write by building worlds and stories for pen and paper RPGs. He lives in Washington state with his wife and three daughters, and aspires to one day own a ranch in the middle of nowhere.