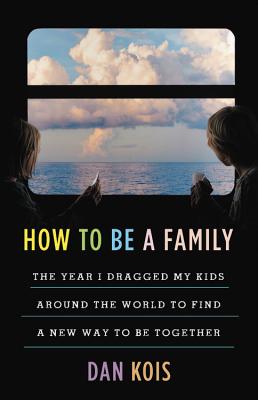 How to Be a Family
The Year I Dragged My Kids Around the World to Find a New Way to Be Together
Hardcover

* Individual store prices may vary.
Other Editions of This Title:
Digital Audiobook (9/16/2019)
Compact Disc (9/17/2019)
Description
In this "refreshingly relatable" (Outside) memoir, perfect for the self-isolating family, Slate editor Dan Kois sets out with his family on a journey around the world to change their lives together.What happens when one frustrated dad turns his kids' lives upside down in search of a new way to be a family?
Dan Kois and his wife always did their best for their kids. Busy professionals living in the D.C. suburbs, they scheduled their children's time wisely, and when they weren't arguing over screen time, the Kois family-Dan, his wife Alia, and their two pre-teen daughters-could each be found searching for their own happiness. But aren't families supposed to achieve happiness together?

In this eye-opening, heartwarming, and very funny family memoir, the fractious, loving Kois' go in search of other places on the map that might offer them the chance to live away from home-but closer together. Over a year the family lands in New Zealand, the Netherlands, Costa Rica, and small-town Kansas. The goal? To get out of their rut of busyness and distractedness and to see how other families live outside the East Coast parenting bubble.

HOW TO BE A FAMILY brings readers along as the Kois girls-witty, solitary, extremely online Lyra and goofy, sensitive, social butterfly Harper-like through the Kiwi bush, ride bikes to a Dutch school in the pouring rain, battle iguanas in their Costa Rican kitchen, and learn to love a town where everyone knows your name. Meanwhile, Dan interviews neighbors, public officials, and scholars to learn why each of these places work the way they do. Will this trip change the Kois family's lives? Or do families take their problems and conflicts with them wherever we go?

A journalistic memoir filled with heart, empathy, and lots of whining, HOW TO BE A FAMILY will make readers dream about the amazing adventures their own families might take.
Praise For How to Be a Family: The Year I Dragged My Kids Around the World to Find a New Way to Be Together…
A Kansas Notable Book of 2020
New York Times' Best Holiday Books of 2019New York Post's Awesome Books for the HolidaysBookpage's Best Lighthearted Nonfiction of 2019A BookRiot New Nonfiction Release to Add to Your NightstandIncluded in Buzzfeed's Holiday Gift GuideFeatured in Entertainment Weekly's Best Holiday Books

"Borrows a page from Elizabeth Gilbert's Eat, Pray, Love....this book is an antidote to the documentarian approach that now pervades much travel writing."—Monica Drake, New York Times Book Review

"This book shows how one family works, as a way of helping us all ask ourselves: How might (and ought) our own families best function? ... Discuss this book with people you care about, who also care about you. "—Los Angeles Times

"Kois is a self-aware, menschy, and amusing guide to this adventure, picking apart what you can leave behind, what you can pick up along the way, and what will follow you wherever you are."—Vogue

"A hilarious and honest book about how wherever you (and your kids) go, there you (and their screens) are."
—Real Simple

"An impressive body of research."—The New York Times

"An illuminating story of family connection in the digital age."—Entertainment Weekly


"Kois and his family actually take the dizzying leap to leave behind their lives for a year-a trek that takes them from New Zealand to Kansas-and the result is a unique book that every overstressed and anxious (meaning = every) parent should read."
—The Millions

"Kois, an editor at Slate, made a project of exploring what living in other cultures-in this case, New Zealand, the Netherlands, Costa Rica, and Kansas-could teach [his family] about becoming closer. The result is his heartwarming memoir."—The Washingtonian

"Might remind cinema-minded readers of the end of Bill Forsyth's 1983 film Local Hero...nicely tuned-in observations befitting a keen-eyed journalist."—Kirkus

"In thishighly entertaining and wryly insightful book, Dan Kois shows how elastic the very concept of family is. As he recounts his family's encounters with four foreign cultures, he illuminates not only those other societies, but also our own. He argues persuasively that we have much to learn from divorcing ourselves from our own assumptions."—Andrew Solomon, author of Far and Away and Far From the Tree

Lots of people talk about pulling up stakes and traveling for a year. Dan Kois and his family actually did it. He's funny and honest about how it all turned out."—Pamela Druckerman, author of Bringing Up Bébé and There Are No Grown-Ups

"This sometimes hair-raising adventure in family togetherness across many continents took courage even to attempt, and a lively sense of humor to describe. Kois has produced a delightful and eye-opening book about what it means to be a family in the modern world."—Ian Frazier, author of Family and Coyote V Acme

"Many parents will relate to the experiences in this book of trying to get your kids to do stuff. Dan gives us some hope that we can ask our kids to do hard things, to adapt to new challenges, and it can be good for everyone. Also, the book is wildly entertaining."—Emily Oster, author of Cribsheet: A Data-Driven Guide to Better, More Relaxed Parenting, from Birth to Preschool

"As many parents know, the key to making a family work is: Put in the time. Dan Kois and his wife took their two kids on the trip of a lifetime and learned what's great (and miserable) about how that time passes. The result is a funny, thoughtful, well-reported and inspiring guide for anyone hoping to create family adventures (and misadventures) of their own."—Charles Duhigg, bestselling author of The Power of Habit and Smarter Faster Better

"How To Be a Family is a witty, surprising and compulsively readable book. You may find yourself planning a geographical cure of your own by the time you reach the end of it. But Kois is too thoughtful a writer to dwell only on the transformative possibilities of such a trip. Nothing is quite as his family imagined it would be and this leads the book into exhilarating, emotionally complex territory."—Jenny Offill, author of Department of Speculation
Little, Brown and Company, 9780316552622, 336pp.
Publication Date: September 17, 2019
About the Author
Dan Kois is an editor at Slate, founding host of the podcast Mom and Dad Are Fighting, and a contributing writer to the New York Times Magazine.