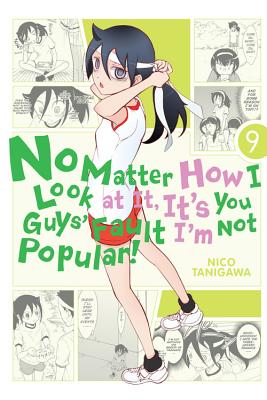 No Matter How I Look at It, It's You Guys' Fault I'm Not Popular!, Vol. 9 (Paperback)
Yen Press, 9780316552738, 144pp.
Publication Date: November 22, 2016
Other Editions of This Title:
Paperback (7/21/2020)
Paperback (1/28/2020)
Paperback (10/15/2019)
Paperback (3/26/2019)
Paperback (10/29/2013)
* Individual store prices may vary.
Description
As the dreaded class trip comes to an end, it leaves an unexpected boon in its wake-Tomoko has gotten juuust a bit more capable of conversing with her classmates! But never fear! The trials of an antisocial butterfly are unending, and Tomoko now has a new hurdle to tackle: the sports festival! Forced to take part in events that require actually talking to people, her newfound social skills are put to the test...but youthful enthusiasm and passion are the farthest things from Tomoko's mind...
About the Author
A team of two manga artists, Nico Tanigawa is the creator of a number of school-life comedies, including No Matter How I Look At It, It's You Guys' Fault I'm Not Popular!