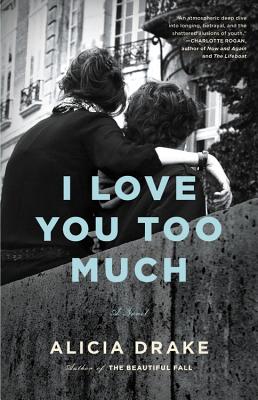 I Love You Too Much (Hardcover)
Little, Brown and Company, 9780316553209, 224pp.
Publication Date: January 23, 2018
* Individual store prices may vary.
Description
I knew I was in Paris, I knew that was the Seine beneath me, the sky above, but when I looked around for help, the grand apartment buildings of the Quai Voltaire stared back at me, indifferent.

Alicia Drake, author of the critically acclaimed biography The Beautiful Fall, evokes contemporary life in the City of Lights lavishness of Edward St. Aubyn and the sophistication of Julia Pierpont's Among Ten Thousand Things. I Love You Too Much is a novel of extraordinary intelligence and heart, a devastating coming of age story told from the sidelines of Parisian perfection.

In the sixth arrondissement everything is perfect and everyone is lonely. This is the Paris of thirteen-year-old Paul. Shy and unloved, he quietly observes the lives of the self-involved grown-ups around him: his glamorous Maman, Séverine, her younger musician lover, Gabriel, and his fitness-obsessed Papa, Philippe. Always overlooked, it's only a matter of time before Paul witnesses something that he's not supposed to see...

Seeking solace in an unlikely friendship with rebellious classmate Scarlett and succumbing to the temptation of the numerous patisseries in his elegant neighborhood, Paul searches for unconditional love. But what will he do if he can't find it?


About the Author
Brought up in Liverpool, Alicia Drake was educated at Cambridge University. She went to Paris for six months and stayed for eighteen years. There she worked as a writer and fashion journalist and had five children. She is the author of The Beautiful Fall, a book of narrative nonfiction about Paris fashion and creativity in the 1970s. She returned to the UK recently and now lives in the countryside with her husband and children. I Love You Too Much is her first novel.
Praise For I Love You Too Much…
"An astute and poignant portrait of adolescence".—People

'Memorable,
heartfelt...poignant and uplifting'—Publisher's Weekly

"a dark coming-of-age story that will break your
heart - and not let you forget it."—Hello Giggles

"In her
compelling fiction debut, Drake, a formerly longtime Paris resident... crafts
Paul's hometown with a true insider's care, and she believably narrates as a
boy resisting the confining forces of his self-involved parents' narrow paths
and stingily shared love for him."—Booklist

"Not often do you come across a protagonist who you want to hug and shield from the world. Drake creates a character who is sure to bring out the maternal instinct in every reader."—Janice MacLeod, author of the New York Times bestseller Paris Letters

"I Love You Too Much is an atmospheric deep dive
into longing, betrayal, and the shattered illusions of youth. Alicia Drake's
Paris is haunting, and her writing soars."


—Charlotte Rogan, author of Now and Again

"Alicia Drake's beautifully written tale of an adolescent French boy adrift between divorced, narcissistic parents feels like the enfant naturel of Henry James's What Maisie Knew and Deborah Levy's Swimming Home. Her depiction of contemporary well-heeled Parisian life is so spot on, you might be in the sixth arrondissement watching kids spill out of school, lighting their cigarettes and lining up to buy pain au chocolat at the corner boulangerie. I couldn't put it down."—Anne Korkeakivi, author of Shining Sea

"A timely look at the carnage caused by parental narcissism. Funny, waspish, astute, l Love You Too Much is a heart breaking tale from the tubby sidelines of Parisian perfection."—Denise Mina, author of The Long Drop