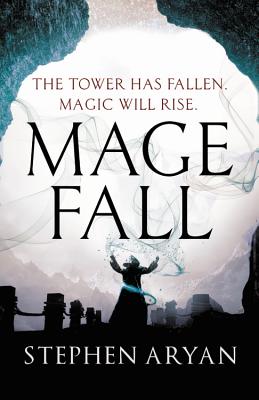 Magefall (The Age of Dread #2) (Paperback)
Orbit, 9780316554817, 480pp.
Publication Date: September 4, 2018
Other Editions of This Title:
Digital Audiobook (11/13/2017)
Digital Audiobook (9/3/2018)
Paperback (8/6/2019)
Paperback (10/3/2017)
* Individual store prices may vary.
Description
When magic is feared, the mages must learn to fight for themselves in this powerful sequel to the standout epic fantasy Mageborn by Stephen Aryan.
The land is in turmoil. Mages are hunted by men and gods alike. Even their own kind betray each other in the name of safety and protection.
With their last refuge fallen, two young mages must conspire against a god to show the world that their abilities aren't a curse; they are the only way to ensure lasting peace. Under the threat of anti-magic fanatics, Wren struggles to find her place as a leader and to keep her people safe as they build a new home. While Danoph searches for answers on a spiritual journey, determined to find out who he really is and where he came from in an effort to calm the coming storm.
Their world has turned against them, yet only they can save the world.
The Age of Dread
Mageborn
Magefall
For more from Stephen Aryan, check out:
Age of Darkness
Battlemage
Bloodmage
Chaosmage
About the Author
Stephen Aryan was born in 1977 and was raised by the sea in northeast England. A keen podcaster, lapsed gamer and budding archer, when not extolling the virtues of Babylon 5, he can be found drinking real ale and reading comics.
He lives in a village in West Midlands with his partner and two cats.
Praise For Magefall (The Age of Dread #2)…
"This fast-moving, plot-heavy series doesn't skimp on the characters or worldbuilding... unique and compelling."—B&N's Sci-Fi & Fantasy Blog

"Strong offering that should appeal both to those who like their fantasy cynical and those who prefer it sentimental. "—Kirkus

"Will whet fans' appetites for the next installment in this gripping high fantasy series."—Publishers Weekly

"A propulsive combination of thrills, mystery, and magic."—B&N's Sci-Fi and Fantasy Blog on Mageborn

"[Stephen Aryan] enlivens his tale with abundant politics, intrigues, double-crossings, and plot twists to keep the pacing brisk and whet readers' appetites for future installments."—Publishers Weekly on Mageborn

"A vivid and rousing adventure with the kind of magic that punches you right in the face"—Jen Williams on Battlemage


"This is epic fantasy for readers who appreciate extra helpings of carnage with their backstabbing."—Publishers Weekly on Battlemage


"Stephen Aryan puts the epic into Epic Fantasy. This is a ground-shaking debut, full of fiery promise"—Den Patrick, on Battlemage