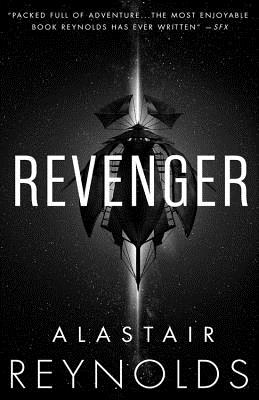 Revenger (The Revenger Series #1) (Paperback)
Orbit, 9780316555562, 432pp.
Publication Date: February 28, 2017
Other Editions of This Title:
Digital Audiobook (2/27/2017)
Compact Disc (2/28/2017)
Compact Disc (2/28/2017)
* Individual store prices may vary.
Description
Winner of the 2017 Locus Award

Revenger is a rocket-fueled tale of space pirates, buried treasure, and phantom weapons, of unspeakable hazards and single-minded heroism... and of vengeance...
Adrana and Fura Ness are the newest crew members of the legendary Captain Rackamore's ship, using their mysterious powers as Bone Readers to find clues about their next score. But there might be more waiting for them in space than adventure and fortune: the fabled and feared Bosa Sennen, in particular.
The galaxy is filled with treasures... if you have the courage to find them.
About the Author
Alastair Reynolds was born in Barry, South Wales, in 1966. He studied at Newcastle and St. Andrews Universities and has a Ph.D. in astronomy. he stopped working as an astrophysicist for the European Space Agency to become a full-time writer. Revelation Space and Pushing Ice were shortlisted for the Arthur C. Clarke Award; Revelation Space, Absolution Gap, Diamond Dogs, and Century Rain were shortlisted for the British Science Fiction Award, and Chasm City won the British Science Fiction Award.
Praise For Revenger (The Revenger Series #1)…
"A swashbuckling thriller--Pirates of the Caribbean meets Firefly--that nevertheless combines the author's trademark hard SF with effective, coming-of-age characterization."
—
The Guardian

"
Revenger
is classic Reynolds-that is to say, top of the line science fiction, where characters are matched beautifully with ideas and have to find their place in a complex future. More!"—
Greg Bear

"Alastair
Reynolds [is] one of the leading lights of the New Space Opera Movement . . . .
Revenger
is tremendous fun."
—
Locus
"Reynolds has sketched in a galaxy littered with the relics of former civilizations (human and alien), with plenty left to the reader's imagination, and room for a sequel."—
Library Journal
"An expert mix of the fantastical and horrific."—
Publishers Weekly (starred review)
"Reynolds' newest action-packed science fiction novel is a tale of sisterly devotion, heartbreaking loss, and brutal vengeance . . . Fans will enjoy the well-developed characters and detailed world building."
—
Booklist
"A blindingly clever imagining of our solar system in the far flung future."—
The Sun
"A rollicking adventure yarn with action, abduction, fights, properly scary hazards, very grisly torture and even ghosts of a sort."—
The Daily Telegraph
"By far the most enjoyable book Reynolds has ever written."—
SFX
"The World of
Revenger
is undeniably fascinating, and with Reynolds as your storyteller, a journey into it is definitely worthwhile."—
SciFiNow
"Basically, it's
Treasure Island
meets
Moby Dick
, set in space, with a nice
Blade Runner-
ish color palette and a cast of character worthy of a Terry Gilliam movie. I loved it."—
Joanne Harris
"Reynolds makes the human story compelling in a narrative that, spiced with bizarre characters aplenty and propelled by vengeance, smacks intriguingly of everything from Robert Louis Stevenson's
Treasure Island
to
Mad Max
."—
Nature
"An excellent, gripping piece of work."—
SFANDF Reviews
"A delightful romp through the spaceways."—
Interzone
"A must-read . . . an unexpectedly personal and emotionally-driven tale of determination and retribution - with some great twists along the way and a gutsy heroine who will appeal to fans of young adult literature."—
Starbust
"A layered star-spanning odyssey filled with drama, adventure, and, yes, revenge."—
AudioFile