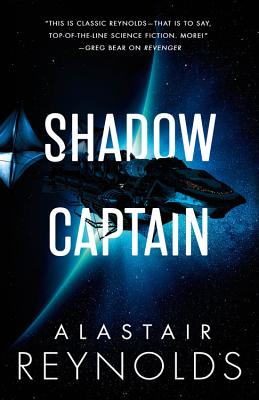 Shadow Captain (The Revenger Series #2)
Paperback

* Individual store prices may vary.
Description
The gripping sequel to the Locus award winning science fiction adventure, Revenger, tells a story of obsession and betrayal as two sisters hunt for the greatest treasure in the universe.

Adrana and Fura Ness have finally been reunited, but both have changed beyond recognition. Once desperate for adventure, now Adrana is haunted by her enslavement on the feared pirate Bosa Sennen's ship. And rumors of Bosa Sennen's hidden cache of treasure have ensnared her sister, Fura, into single-minded obsession.

Neither is safe; because the galaxy wants Bosa Sennen dead and they don't care if she's already been killed. They'll happily take whoever is flying her ship.

Shadow Captain is a desperate story of cursed ships, vengeful corporations, and alien artifacts, of daring escapes and wealth beyond imagining . . . and of betrayal.
Praise For Shadow Captain (The Revenger Series #2)…
"This wonderfully complicated, fascinating space opera carries on the adventures of teen sisters Adrana and Arafura Ness, who find themselves over their heads in deep space intrigue... [A] marvelous mix of character study and space adventure."—Publishers Weekly (starred review)

"Shadow Captain does what a great sequel should do: it builds upon, rather than replicates, the earlier work while escalating the drama and upping the stakes. ... The worlds'-shattering conclusion has us very much looking forward to our next voyage with the Ness sisters."—B&N Sci-Fi and Fantasy Blog

"The sequel to last year's space heist story, Revenger, is an equally-gripping story about two sisters, Adrana and Fura Ness, on the hunt for the greatest treasure in the universe."—Kirkus

"A swashbuckling thriller--Pirates of the Caribbean meets Firefly--that nevertheless combines the author's trademark hard SF with effective, coming-of-age characterization."
—The Guardian on Revenger

"Revenger is classic Reynolds-that is to say, top of the line science fiction, where characters are matched beautifully with ideas and have to find their place in a complex future. More!"—Greg Bear on Revenger

"Alastair Reynolds [is] one of the leading lights of the New Space Opera Movement . . . . Revenger is tremendous fun." —Locus

"The Revenger series is an emotionally raw trilogy about a space pirate crew looking for collapsed planets ... If you're looking for a fierce sister story, you will definitely enjoy Revenger."—Book Riot

"Reynolds has sketched in a galaxy littered with the relics of former civilizations (human and alien), with plenty left to the reader's imagination, and room for a sequel."—Library Journal on Revenger

"An expert mix of the fantastical and horrific."—Publishers Weekly (starred review) on Revenger

"Reynolds' newest action-packed science fiction novel is a tale of sisterly devotion, heartbreaking loss, and brutal vengeance . . . Fans will enjoy the well-developed characters and detailed world building."—Booklist on Revenger

"A blindingly clever imagining of our solar system in the far flung future."—The Sun on Revenger

"A rollicking adventure yarn with action, abduction, fights, properly scary hazards, very grisly torture and even ghosts of a sort."—The Daily Telegraph on Revenger

"By far the most enjoyable book Reynolds has ever written."—SFX on Revenger

"The World of Revenger is undeniably fascinating, and with Reynolds as your storyteller, a journey into it is definitely worthwhile."—SciFiNow on Revenger

"Basically, it's Treasure Island meets Moby Dick, set in space, with a nice Blade Runner-ish color palette and a cast of character worthy of a Terry Gilliam movie. I loved it."—Joanne Harris on Revenger
Orbit, 9780316555708, 448pp.
Publication Date: January 15, 2019
About the Author
Alastair Reynolds was born in Barry, South Wales, in 1966. He studied at Newcastle and St. Andrews Universities and has a Ph.D. in astronomy. he stopped working as an astrophysicist for the European Space Agency to become a full-time writer. Revelation Space and Pushing Ice were shortlisted for the Arthur C. Clarke Award; Revelation Space, Absolution Gap, Diamond Dogs, and Century Rain were shortlisted for the British Science Fiction Award, and Chasm City won the British Science Fiction Award.