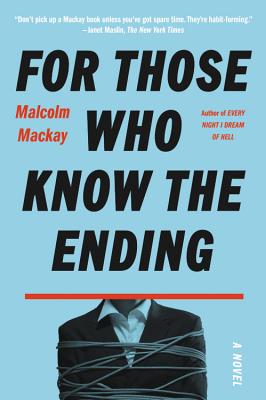 For Those Who Know the Ending (Hardcover)
Mulholland Books, 9780316556071, 272pp.
Publication Date: May 8, 2018
* Individual store prices may vary.
Description
"Don't pick up a Mackay book unless you've got spare time. They're habit-forming." - Janet Maslin, The New York Times
Martin Sivok is in trouble. Tied to a chair, plastic strips biting his wrists, inside a deserted warehouse. . . There are only so many ways this scenario can end, most of them badly. For now his best hope is figuring out who put him here--and staying conscious long enough to confront them.
To stay awake he reviews the past year of his life: evading the law in the Czech Republic by running to Glasgow, settling into a borderline respectable relationship with his landlady, and getting back into the life at the very bottom of the criminal ladder, alongside Usman Kassar, a cocky, goofy kid anxious to prove himself.
The job should be simple: Smash heads, grab cash, run. The trouble with being two outsiders is, you don't always know whose heads are too dangerous to crack, or whose cash is too hot to handle...
In sharp, precise prose, Malcolm Mackay--an "elegant stylist" unmatched in contemporary noir (Chicago Tribune)--captures the character of Glasgow and its underworld denizens.
About the Author
Malcolm Mackay's Glasgow Trilogy has been nominated for several international prizes. The Necessary Death of Lewis Winter was shortlisted for the Edgar Awards' Best Paperback Original, the CWA John Creasey (New Blood) Dagger, and the Theakstons Old Peculier Crime Novel of the Year Award. How a Gunman Says Goodbye won the Deanston Scottish Crime Book of the Year Award. Mackay was born in Stornoway on Scotland's Isle of Lewis, where he still lives.
Praise For For Those Who Know the Ending…
"A hypnotic, addictive, one-sit read that you will tear through even as you fear what will happen next...You don't need to have read Mackay's other books to fully appreciate his latest one, but you certainly will want to do so after experiencing this fine, beautifully dark tale.... If you like your thrillers dark, messy and violent, look no further than Scottish noir in general and Malcolm Mackay in particular."—BookReporter

"For Those Who Know the Ending has its predecessors' bone-dry humor, squirm-making
suspense, utter lack of mercy and unexpectedly fleshy characterizations."—Shelf Awareness

"The violence is shot through with dark humor, and even the lowest criminals have their fair share of humanity. Tartan noir fans will find plenty to like."—Publishers Weekly

"Mackay's fiction [is] gripping, dark, so immersed in the underworld that there's rarely a cop in sight . . . It stands comparisons with such genre giants as George V. Higgins."—Craig Robinson, The Scotsman

"A fast-paced, page-turning journey through a nightmarish world of ruthless men... [Mackay]'s real skill lies in making monsters not only human, but characters that deserve a little sympathy for their brutal lives."—Shirley Whiteside, Sunday Herald (UK)

PRAISE FOR EVERY NIGHT I DREAM OF HELL

"The [Glasgow] trilogy was a bravura performance, and one had every reason to expect that Mackay would do more with such rich material. That expectation has now been met, and rousingly so."—Dennis Drabelle, Washington Post

"Contemporary noir doesn't boast a more elegant stylist than Mackay. Even in evoking a world of scuzziness, he makes the lure of redemption sing."—Chicago Tribune