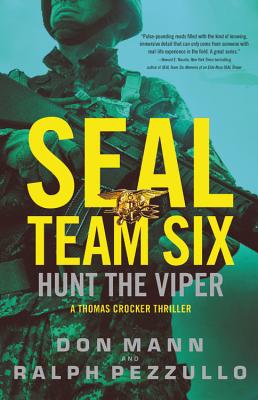 SEAL Team Six (Hardcover)
Hunt the Viper (A Thomas Crocker Thriller #7)
Mulholland Books, 9780316556408, 320pp.
Publication Date: May 22, 2018
Other Editions of This Title:
Digital Audiobook (5/21/2018)
Digital Audiobook (5/12/2014)
Digital Audiobook (6/25/2012)
Digital Audiobook (5/11/2015)
Hardcover (8/13/2019)
Mass Market (4/30/2019)
Compact Disc (8/13/2019)
Mass Market (10/28/2014)
Hardcover (5/12/2015)
Mass Market (3/29/2016)
Hardcover (6/26/2012)
Pre-Recorded Audio Player (6/26/2012)
CD-Audio (11/20/2012)
Mass Market (11/20/2012)
CD-Audio (6/26/2012)
Mass Market (8/25/2020)
Compact Disc (8/13/2019)
* Individual store prices may vary.
Description
Don Mann and Ralph Pezzullo's shockingly authentic military thriller sends Thomas Crocker and his SEAL Team Six brothers to confront a notorious ISIS general, The Viper, during the occupation of Aleppo, Syria.

Despite the efforts of the Assad government and its Russian and Turkish allies, Syria is succumbing to the Islamic State. While Crocker and his SEAL Team Six comrades try to help a small Kurdish border town organize a resistance army, he finds an unexpected connection with Severine, a French epidemiologist working for Doctors Without Borders.

As Severine and her colleagues establish a makeshift hospital in besieged Aleppo, Crocker counsels caution. He knows too well that their NGO status will be no protection from the Viper, a notoriously vicious ISIS general with a deeply personal hatred of the West. When the Viper's men kidnap one of Severine's American colleagues, Crocker will pull every string at his disposal to launch a rescue mission. But in a situation where the US has no official business, he'll push every boundary of how far he's willing to go -- and how far his SEAL brothers in arms will follow him -- to save innocent lives.
About the Author
Don Mann (CWO3, USN) is the author of the national bestseller Inside SEAL Team Six and a former Navy SEAL. He lives in Virginia.

Ralph Pezzullo is a New York Times bestselling author and award-winning playwright, screenwriter and journalist. His books include Jawbreaker (with CIA operative Gary Berntsen) and Zero Footprint (with military contractor Simon Chase).
Praise For SEAL Team Six: Hunt the Viper (A Thomas Crocker Thriller #7)…
"As real as it gets!

Hunt the Viper
reads like it was pulled from official mission traffic.
Forget silly TV shows and movies, this book will show you exactly what it's
like to be an operator at the tip of the spear. Don Mann and Ralph Pezzullo's SEAL Team Six series are the most authentic
military thrillers on the market. Period. End of discussion."—
Douglas Laux
,
former CIA Field Operative and New York Times bestselling author of Left of Boom
PRAISE FOR THE SEAL TEAM SIX SERIES:
"The authors gives nuance and depth to Crocker's character . . . The conclusion is satisfying, with Crocker going entertainingly superhuman. . . . For the Tom Clancy/Dale Brown genre fan, Mann and Pezzullo provide enough excitement to while away a weekend."—
Kirkus Reviews
"The pace is relentless, and the inside knowledge of how the SEALs operate again gives this series its appeal. . . . For action fans, Crocker continues to deliver."
—
Jeff Ayers
,
Booklist
"Pulse-pounding reads filled with the kind of knowing, immersive detail that can only come from someone with real-life experience in the field. A great series."—
Howard E. Wasdin
,
New York Times best-selling author of SEAL Team Six: Memoirs of an Elite Navy SEAL Sniper
"A riveting and accurate description of how special operations units actually conduct counterterrorist operations in the field. . . . If you are interested in reading a suspenseful, action-filled novel written by the 'real deal' instead of some amateur wanna-be, pick up this book, or any of those in the SEAL Team Six series."—
James Blount, former supervisor at the Central Intelligence Agency