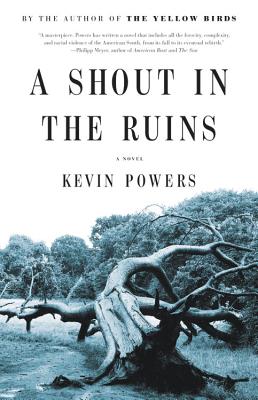 A Shout in the Ruins
Hardcover

* Individual store prices may vary.
Other Editions of This Title:
Digital Audiobook (5/14/2018)
Paperback (5/7/2019)
Hardcover, Large Print (5/15/2018)
CD-Audio (5/22/2018)
Compact Disc (5/15/2018)
Description
Set in Virginia during the Civil War and a century beyond, this novel by the award-winning author of The Yellow Birds explores the brutal legacy of violence and exploitation in American society.

Spanning over one hundred years, from the antebellum era to the 1980's, A Shout in the Ruins examines the fates of the inhabitants of Beauvais Plantation outside of Richmond, Virginia. When war arrives, the master of Beauvais, Anthony Levallios, foresees that dominion in a new America will be measured not in acres of tobacco under cultivation by his slaves, but in industry and capital.

A grievously wounded Confederate veteran loses his grip on a world he no longer understands, and his daughter finds herself married to Levallois, an arrangement that feels little better than imprisonment. And two people enslaved at Beauvais plantation, Nurse and Rawls, overcome impossible odds to be together, only to find that the promise of coming freedom may not be something they will live to see.

Seamlessly interwoven is the story of George Seldom, a man orphaned by the storm of the Civil War, looking back from the 1950s on the void where his childhood ought to have been. Watching the government destroy his neighborhood to build a stretch of interstate highway through Richmond, he travels south in an attempt to recover his true origins. With the help of a young woman named Lottie, he goes in search of the place he once called home, all the while reckoning with the more than 90 years he lived as witness to so much that changed during the 20th century, and so much that didn't.

As we then watch Lottie grapple with life's disappointments and joys in the 1980's, now in her own middle-age, the questions remain: How do we live in a world built on the suffering of others? And can love exist in a place where for 400 years violence has been the strongest form of intimacy? Written with the same emotional intensity, harrowing realism, and poetic precision that made The Yellow Birds one of the most celebrated novels of the past decade, A Shout in the Ruins cements Powers' place in the forefront of American letters and demands that we reckon with the moral weight of our troubling history.
Praise For A Shout in the Ruins…
"A Shout in the Ruins is confirmation, if it were needed, that Kevin Powers is a writer of rare talent."—Financial Times

"Much as in The March E.L. Doctorow's epic civil war novel, Mr. Powers gives a strong sense of a vast body of humanity caught up in a tumult that still reverberates today... Above all this troubling, stirring book is informed by Mr. Powers's deep understanding of war's complexities, and of how people are broken and shaped by it."—The Economist

"The characters in Powers' bleak, stunning novel are subject to indignities too countless and cruel to name. Like his debut, The Yellow Birds, it's a searing look at the ravages of war, and how violence can shape a nation in ways that may never be fully recoverable.... It won't surprise anyone who's read The Yellow Birds that Powers is a hell of a writer. His use of language in A Shout in the Ruins - inspired, perhaps, by William Faulkner - is nothing short of brilliant, and he connects with his characters in a very real way; he explores their psyches with an uncommon sensitivity."—Michael Schaub, NPR

"Powers brings to Virginia battle scenes the same searing immediacy he brought to his stories of carnage in The Yellow Birds."—Ron Charles, Washington Post

"With a complex structure reminiscent of Faulkner, Powers adroitly weaves his narrative threads together with subtle connections that reinforce his themes of longing for coherence and the continuing effect of the past on the present. An impressive novel of slavery, destruction, and the arduous difficulties of love."—Kirkus, Starred Review

"Some passages in Powers' second novel, following his awarding-winning The Yellow Birds (2012), unfold with a fable's tragic inevitability, while specificity of setting and character, both strikingly described and original, will brand them into the reader's consciousness . . . Beautifully formed sentences express unsettling truths about humanity, yet tendrils of hope emerge, showing how love and kindness can take root in seemingly barren earth."—Booklist

"A masterly meditation on our unbreakable connection to a world predicated on cyclical violence."—Library Journal

"With a complex structure reminiscent of Faulkner, Powers adroitly weaves his narrative threads together with subtle connections that reinforce his themes of longing for coherence and the continuing effect of the past on the present. An impressive novel of slavery, destruction, and the arduous difficulties of love."—Kirkus, starred review

"Guided by a homing instinct for human truths, A Shout in the Ruins is a daring voyage into and out of the darkest era in American history"—Observer

"Suitably unvarnished, but not without moments of beauty or deep emotion. A Shout in the Ruins brushes aside myth and romanticism for a clear-eyed look at American heritage."—Shelf Awareness

"A masterpiece. Powers has written a novel that includes all the ferocity, complexity, and racial violence of the American South, from its fall to its eventual rebirth."—Philipp Meyer

"Kevin Powers has seamlessly woven nineteenth and twentieth century lives to create a novel that resonates out of the past to address the most timely issues of America in our own century. The same striking language and contemplation of war and its aftermath that made The Yellow Birds such a lauded debut is on full display in A Shout in the Ruins. What an impressive novel."—Ron Rash

"A harrowing and lyrical epic in miniature, Powers has written a novel excavated from another time, but which speaks profoundly to this one."
—Elliot Ackerman, author of Dark at the Crossing

Praise for The Yellow Birds:


"A remarkable first novel...The Yellow Birds is brilliantly observed and deeply affecting: at once a freshly imagined bildungsroman about a soldier's coming of age, a harrowing story about the friendship of two young men trying to stay alive on the battlefield in Iraq, and a philosophical parable about the loss of innocence and the uses of memory...Extraordinary."—Michiko Kakutani, New York Times

"The Yellow Birds might just be the first American literary masterpiece produced by the Iraq war."—Los Angeles Times

"An elegiac, sober, and haunting coming-of-age war story."—TIME

"The first great Iraq War novel."—Darren Reidy, Rolling Stone

"A first novel as compact and powerful as a footlocker full of ammo....Kevin Powers has something to say, something deeply moving about the frailty of man and the brutality of war, and we should all lean closer and listen."—Benjamin Percy, New York Times Book Review

"An exquisite excavation of the war's moral and psychological wreckage. Powers evokes the peculiar smell and feel of the war better than any journalist."—The New Yorker

"Darkly beautiful....How to tell a true war story if you're more a poet than a novelist? Tell it as a poet would. Tell it as Kevin Powers does."—Alan Cheuse, NPR's All Things Considered

"A novel of grit, grace, and blood by an Iraq war veteran....Kevin Powers moves gracefully between spare, factual description of the soldiers' work to simple, hard-won reflections on the meaning of war."—Ron Charles, Washington Post

"An unusually spare and lyrical war story....The characters are sketched with as much heart as economy...Like the Iraq heat, which 'had the surprising effect of reducing one to tears in an instant,' The Yellow Birds skulks along, detached and undemanding, until all of a sudden you turn a page and find yourself weeping."—GQ
Little, Brown and Company, 9780316556477, 272pp.
Publication Date: May 15, 2018
About the Author
Kevin Powers is the author of The Yellow Birds, which won the PEN/Hemingway Award, the Guardian First Book Award, and was a National Book Award Finalist, as well as Letter Composed During a Lull in the Fighting, a collection of poetry. He was born and raised in Richmond, Virginia, graduated from Virginia Commonwealth University, and holds an MFA from the University of Texas at Austin, where he was a Michener Fellow in Poetry. He served in the US Army in 2004 and 2005 in Iraq, where he was deployed as a machine gunner in Mosul and Tal Afar.
or
Not Currently Available for Direct Purchase