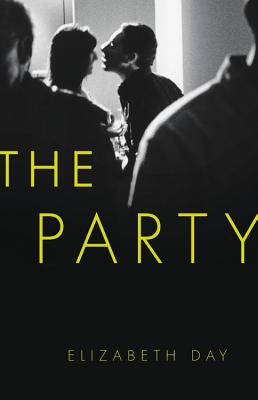 The Party
Hardcover

* Individual store prices may vary.
Other Editions of This Title:
Digital Audiobook (8/14/2017)
Paperback (8/7/2018)
Compact Disc (8/15/2017)
Compact Disc (8/15/2017)
Description
A taut psychological tale of obsession and betrayal set over the course of a dinner party.

"Day's shrewd eye and authorial tone provide a gleeful, edgy wit.... [a] smart, irresistible romp."-New York Times Book Review

Ben, who hails from old money, and Martin, who grew up poor but is slowly carving out a successful career as an art critic, have been inseparable since childhood. Ben's wife Serena likes to jokingly refer to Martin as Ben's dutiful Little Shadow.

Lucy is a devoted wife to Martin, even as she knows she'll always be second best to his sacred friendship. When Ben throws a lavish 40th birthday party as his new palatial country home, Martin and Lucy attend, mixing with the very upper echelons of London society.

But why, the next morning, is Martin in a police station being interviewed about the events of last night? Why is Lucy being forced to answer questions about his husband and his past? What exactly happened at the party? And what has bound these two very different men together for so many years?

A cleverly built tour of intrigue, The Party reads like a novelistic board game of Clue, taking us through the various half-truths and lies its characters weave, as the past and present collide in a way that its protagonists could never have anticipated.
Praise For The Party…
"Elizabeth Day's psychological thriller, about an aristocrat's birthday party gone awry, updates Waugh, Highsmith and Fitzgerald... Day's sly fourth novel is an enticing mix of social, climbing, barely hidden list and possible crimes...THE PARTY knowingly nods toward
Brideshead Revisited
and
The Talented Mr. Ripley
. But Day refreshes their themes for an age in which the upper echelons retain their allure and their grasp on power while posing as common folk... Day's shrewd eye and authorial tone also provide a gleeful, edgy wit.... [a] smart, irresistible romp."—
New York Times Book Review
"In this psychological page-turner, a deeply buried secret that ties two married couples together comes to a head during one lavish 40th birthday party."
—
Entertainment Weekly
"By page one of this devious, witty, thrilling book, you'll be as haplessly seduced by Ben Fitzmaurice's glamorous lifestyle as his old classmate, Martin Gilmour."
—
Refinery29
"[Martin] makes for a deliciously untrustworthy narrator; seemingly candid, but at the same time never telling the full story, perhaps because he's so good at keeping secrets.... Brimming with betrayal, corruption and hypocrisy,
The Part
y is a gripping page-turner."—
The Guardian
"Like Herman Koch co-wrote a literary page-turner with Patricia Highsmith-irresistible stuff."
—
Bomb
"Rave-worthy."
—
Book Riot
"Witty, dark and compelling"
—
Sebastian Faulks
"Superb--clever, gripping, psychologically acute."
—
Laura Barnett, author of The Versions of Us
"Day's latest novel is sinister and seductive and nothing short of breathtaking."
—
Francesca Segal, author of The Innocents
"Think
Brideshead Revisited
meets
The Talented Mr. Ripley
with a dash of
The Riot Club
. I couldn't put it down."
—
Louise O'Neill, author of Asking For It
"I practically murdered this book in an evening I loved it so much. THE PARTY is a terrifying, hilarious, brilliantly written original with a wit to die for."
—
Phoebe Waller-Bridge, creator and star of Fleabag
Martin is a spellbinding storyteller who doles out details like they're a controlled substance... his narration is littered with keen yet cutting observations about people, their relationships, and society at large....Vividly sketched characters and evocative prose further distinguish the story, which ends on a note that both shocks and gratifies. Day's latest is a dark, haunting, and elegantly crafted tale of obsession, desperation, devastation, and rebirth."
—
Kirkus (starred review)
"This is a dark and compelling book of lifelong obsessions, jealousies and neuroses; of acute psychological complaint, of dissatisfactions, of isolation, loneliness and solipsistic rage."
—
The Observer
"A deft thriller.... Literary flashbacks, which can be jarring or even confusing, are masterfully illuminating in
The Party
: They tighten the tension and lead the reader naturally to the next clue or curiosity....
The Party
is well-rounded and satisfying, not only as an accomplished page-turning mystery, but also for its in-depth examination of class, of marriage and friendship, and of deception, loyalty and ambition."—
St. Louis Post Dispatch
"Day spellbindingly spools out the evening's events....
The Party
is a splendid, stunning slow burn."
—
Shelf Awareness
Little, Brown and Company, 9780316556750, 304pp.
Publication Date: August 15, 2017
About the Author
Elizabeth Day grew up in Northern Ireland. She is an award-winning journalist and has written extensively for the Telegraph, the Times, the Guardian, the Observer, Vogue, Elle, and the Evening Standard.
or
Not Currently Available for Direct Purchase