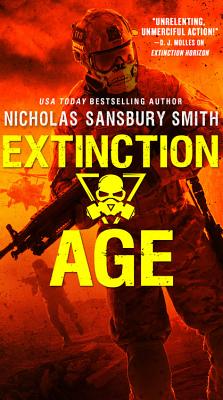 Extinction Age (The Extinction Cycle #3) (Mass Market)
Orbit, 9780316558051, 336pp.
Publication Date: July 25, 2017
Other Editions of This Title:
Digital Audiobook (6/15/2015)
Compact Disc (6/16/2015)
Paperback (6/13/2015)
Compact Disc (6/16/2015)
MP3 CD (6/16/2015)
* Individual store prices may vary.
Description
The third book in USA Today bestselling author Nicholas Sansbury Smith's propulsive post-apocalyptic series about one man's mission to save the world.
Humans are losing the war. Master Sergeant Reed Beckham and the survivors of 1st Platoon must battle through the tunnels--where they make a grisly discovery.
Dr. Kate Lovato is working on a new bioweapon to destroy the Variants when a derelict Navy Destroyer crashes into the Connecticut shoreline carrying yet another threat.

As the doomsday clock ticks down and military bases fall across the country, the human race enters the age of extinction. Will they prevail--or will mankind vanish off the face of the planet?
In the fight for humanity, one final hope remains... pick up the series that D. J. Molles said "delivers unrelenting, unmerciful action" before it's too late!

The Extinction Cycle:


Book 1: Extinction Horizon
Book 2: Extinction Edge
Book 3: Extinction Age
Book 4: Extinction Evolution
Book 5: Extinction End
Book 6: Extinction Aftermath
Book 7: Extinction War
About the Author
Nicholas Sansbury Smith is the USA Today bestselling author of Hell Divers, the Orbs trilogy, and the Extinction Cycle series. He worked for Iowa Homeland Security and Emergency Management in disaster mitigation before switching careers to focus on his one true passion-writing. When he isn't writing or daydreaming about the apocalypse, he enjoys running, biking, spending time with his family, and traveling the world. He is an Ironman triathlete and lives in Iowa with his fiancée, their dogs, and a house full of books.

Praise For Extinction Age (The Extinction Cycle #3)…
"With Extinction Horizon, Nicholas Sansbury Smith delivers unrelenting, unmerciful action to his readers, and he weaves it seamlessly with just enough scientific know-how that after each chapter you're left looking around and wondering not IF this is going to happen, but WHEN."
—D. J. Molles, author of The Remaining on Extinction Horizon





"Nicholas Sansbury Smith combines plausible science with fast-paced military action in an epic juggernaut that races along at supersonic speed. Fans of the genre are sure to love it!"—Russell Blake, bestselling author of The Day After Never on The Extinction Cycle





"A blistering, high octane thrill ride to the brink of humanity's extinction. Nicholas Sansbury Smith plunges the reader right into the middle of the action, alongside a cast of unforgettable characters, as they fight tooth and nail to survive one impossible mission after another-to stop an extinction level virus. The Extinction Cycle series is post-apocalyptic, military science fiction at its best. Highly addictive!"—Steven Konkoly, USA Today bestselling author of The Jakarta Pandemic on The Extinction Cycle


"Fast-paced military action meets cool, cutting-edge science. Extinction is no longer a Darwinian battle of the fittest. It's a race for survival."
—E. E. Giorgi, author of Chimeras on The Extinction Cycle


"Extinction Horizon is a roller coaster ride of fear and adrenaline that you will not want to put down. Nicholas Sansbury Smith once again separates himself from the masses with a brilliantly entertaining post-apocalyptic thriller."
—W. J. Lundy, author of Only the Dead Live Forever on The Extinction Cycle