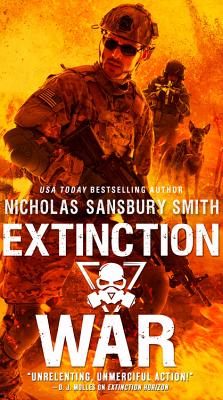 Extinction War (The Extinction Cycle #7) (Mass Market)
Orbit, 9780316558211, 464pp.
Publication Date: November 28, 2017
Other Editions of This Title:
Compact Disc (11/28/2017)
MP3 CD (11/28/2017)
* Individual store prices may vary.
Description
The seventh and never-before-published book in USA Today bestselling Nicholas Sansbury Smith's propulsive post-apocalyptic series about one man's mission to save the world.
An army advances...
In Europe, Master Sergeant Joe Fitzpatrick and Team Ghost return from a mission deep into enemy territory only to find that the Variant army has grown stronger, and they are advancing toward the EUF's stronghold in Paris.
On the brink of Civil War...
Back in the United States, President Ringgold and Dr. Kate Lovato are on the run. The Safe Zone Territories continue to rally behind the ROT flag, leaving Ringgold more enemies than allies. But there are still those who will stand and fight for America. Captain Rachel Davis and Captain Reed Beckham will risk everything to defeat ROT and save the country from collapsing into Civil War.
Humanity may be its own worst enemy... pick up the series that D. J. Molles said "delivers unrelenting, unmerciful action" before it's too late!
The Extinction Cycle:
Book 1: Extinction Horizon
Book 2: Extinction Edge
Book 3: Extinction Age
Book 4: Extinction Evolution
Book 5: Extinction End
Book 6: Extinction Aftermath
Book 7: Extinction War
About the Author
Nicholas Sansbury Smith is the USA Today bestselling author of Hell Divers, the Orbs trilogy, and the Extinction Cycle series. He worked for Iowa Homeland Security and Emergency Management in disaster mitigation before switching careers to focus on his one true passion-writing. When he isn't writing or daydreaming about the apocalypse, he enjoys running, biking, spending time with his family, and traveling the world. He is an Ironman triathlete and lives in Iowa with his fiancée, their dogs, and a house full of books.

Praise For Extinction War (The Extinction Cycle #7)…



"Nicholas Sansbury Smith combines plausible science with fast-paced military action in an epic juggernaut that races along at supersonic speed. Fans of the genre are sure to love it!"—Russell Blake, New York Times bestselling author on The Extinction Cycle

"A blistering, high octane thrill ride to the brink of humanity's extinction. Nicholas Sansbury Smith plunges the reader right into the middle of the action, alongside a cast of unforgettable characters, as they fight tooth and nail to survive one impossible mission after another-to stop an extinction level virus. The Extinction Cycle series is post-apocalyptic, military science fiction at its best. Highly addictive!"—Steven Konkoly, USA Today bestselling author

"Fast-paced military action meets cool, cutting-edge science. Extinction is no longer a Darwinian battle of the fittest. It's a race for survival."
—E. E. Giorgi, author of Chimeras on The Extinction Cycle


"Extinction Horizon is a roller coaster ride of fear and adrenaline that you will not want to put down. Nicholas Sansbury Smith once again separates himself from the masses with a brilliantly entertaining post-apocalyptic thriller."
—W. J. Lundy, author of Only the Dead Live Forever on The Extinction Cycle