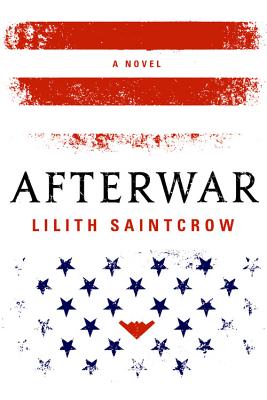 Afterwar (Paperback)
Orbit, 9780316558242, 416pp.
Publication Date: May 8, 2018
Other Editions of This Title:
Digital Audiobook (5/7/2018)
* Individual store prices may vary.
Description
America has been devastated by a second civil war.
The people have spent years divided, fighting their fellow patriots. Now, as the regime crumbles and the bloody conflict draws to a close, the work of rebuilding begins.
One lonely crew, bonded under fire in the darkest days of battle, must complete one last mission: to secure a war criminal whose secrets could destroy the fragile peace that has just begun to form.
Bestselling author Lilith Saintcrow presents a timely and all-too-realistic glimpse of a future that we hope never comes to pass.
For more from Lilith Saintcrow, check out:
Cormorant Run
Blood Call
Bannon and Clare
The Iron Wyrm Affair
The Red Plague Affair
The Ripper Affair
The Damnation Affair (e-only)
Dante Valentine Novels
Working for the Devil
Dead Man Rising
Devil's Right Hand
Saint City Sinners
To Hell and Back
Dante Valentine (omnibus)
Jill Kismet Novels
Night Shift
Hunter's Prayer
Redemption Alley
Flesh Circus
Heaven's Spite
Angel Town
Jill Kismet (omnibus)
A Romance of Arquitaine Novels
The Hedgewitch Queen
The Bandit King
Gallow and Ragged
Trailer Park Fae
Roadside Magic
Wasteland King
About the Author
Lilith Saintcrow was born in New Mexico, bounced around the world as an Air Force brat, and fell in love with writing when she was ten years old. She currently lives in Vancouver, WA.

Praise For Afterwar…
"Saintcrow's rough, rawboned prose paints a world not on the edge, but already over it, revealing an alternate history of America that is achingly relevant to the America in which we live. Simply put, Saintcrow doesn't f*** around."—Chuck Wendig

"Incisive, timely, and important. This may be Saintcrow's finest work to date."—Seanan McGuire

"If anyone asks whether science fiction can be relevant, point them to Afterwar."—Kirkus

"Incredibly timely, well written and important.... A testament to Saintcrow's skill."—Los Angeles Times

"A punch in the gut, nauseatingly compelling in its emotional realism. As well as compelling as a story: well-paced, strikingly well-characterised, and deftly written, Afterwar is a deeply accomplished novel.... I can attest to its quality without hesitation."—Liz Bourke

"Vivid prose highlights the immediacy of battle, and the war-fractured landscape and the emotional and physical toll of fighting are realistically drawn.... An unsettling vision."—Publishers Weekly

"Not a story for the faint of heart, Lilith Saintcrow's latest novel plays on the darkest elements of current American culture, and flashes an unmistakable warning about a potential future ruled by xenophobia and white supremacy.... Startlingly prescient."—RT Book Reviews