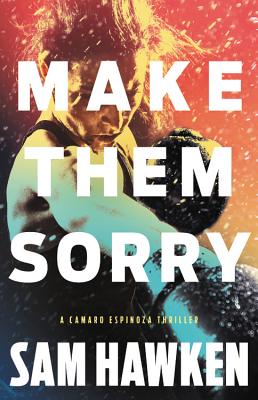 Make Them Sorry (Camaro Espinoza #3)
Hardcover

* Individual store prices may vary.
Description
A violent stalker has a terrified woman in his sights. Camaro Espinoza will make him sorry.

Life in Miami isn't complicated for ex-army medic Camaro Espinoza: Piloting charter fishing trips, fighting at the gym, drinking at the bar. Simple doesn't mean stable, though, and two complicating factors -- okay, people -- are about to disrupt Camaro's relative peace.

Faith Glazer, an accountant with no way to defend herself, begs Camaro's help to stop a stalker who follows her every move. While Ignacio Montellano, a detective on the homicide beat, wants to be her guardian angel and all too deftly finds ways to insert himself in her path.

When Faith's stalker takes his obsession to a new, frightening level, Camaro might find reason to appreciate Montellano after all. The deeper they look, the more trouble they find: federal agents, money-launderers, crooked security contractors, and paramilitary killers. Every one of them with a reason to come after Faith, and to put Camaro down. But Camaro -- the "female Jack Reacher" (The Toronto Star) -- doesn't flinch when violence comes her way. And she has a singular talent for making her enemies sorry they ever heard her name.
Praise For Make Them Sorry (Camaro Espinoza #3)…
"Camaro is a lean, mean, fighting machine
and a woman of very few words. But that's ok because she says plenty with her
fists."—Kristen Centorcelli, Criminal Element

"Tightly plotted...the action-packed narrative derives its real power from the complex character of Camaro, whose toughness and bad attitude make Jack Reacher look like a choir boy."—Publishers Weekly

PRAISE FOR CAMARO ESPINOZA

"Hard-boiled action... Tougher than an army boot.... It's deeply satisfying to watch her."—Marilyn Stasio, New York Times Book Review

"Sam Hawken may have struck crime series gold. . . [This] heroine has got the freshness, charisma, and layers to backbone not just one great novel, but an ongoing series."—Mystery Scene

"A complex and compelling protagonist (coupled with richly defined secondary characters), authenticity of voice and vista, and resonant timeliness. . . . Camaro Espinoza is a name to remember, and readers will find themselves rooting for her despite the many liberties she takes with conventional law and order. Justice is in the eye of the beholder, after all."—John Valeri, The Strand Magazine

"A lead character with a private code, and to hell with those law books. . . . Like a good action hero, Camaro is solitary, vengeful, and fond of beer and motorcycles--a female 'tough guy' who defies stereotypes with engaging bravado. Hawken calls her 'a lean, mean thrilling machine.' He's nailed it."—Booklist

"A winner for a wide crime fiction audience."—Jack Batten, Toronto Star

"A protagonist that'll light up the literary seascape unlike anything before."—Craig Johnson, bestselling author of the Walt Longmire mysteries, the basis for Netflix's Longmire
Mulholland Books, 9780316559386, 320pp.
Publication Date: August 7, 2018
About the Author
Sam Hawken was born in Texas and currently lives outside Baltimore with his wife and son.
or
Not Currently Available for Direct Purchase