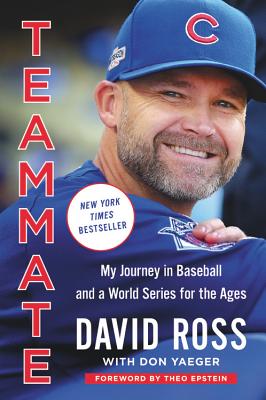 Teammate (Hardcover)
My Journey in Baseball and a World Series for the Ages
Hachette Books, 9780316559447, 272pp.
Publication Date: May 9, 2017
Other Editions of This Title:
Digital Audiobook (5/8/2017)
Paperback (3/20/2018)
CD-Audio (5/23/2017)
* Individual store prices may vary.
Description
NEW YORK TIMES BESTSELLER
USA TODAY BESTSELLER

Packed with "compelling inside stories" (Chicago Tribune), Teammate is the inspiring memoir from "Grandpa Rossy," the veteran catcher who became the heart and soul of the 2016 Chicago Cubs championship team and was named manager in 2019.

In 2016 the Cubs snapped a 108-year curse, winning the World Series in a history-making, seven-game series against the Cleveland Indians. Of the many storylines to Chicago's fairytale season, one stood out: the late-career renaissance of David Ross, the 39-year-old catcher who had played back-up for 13 of his 15 pro seasons.

Beyond Ross's remarkably strong play, he became the ultimate positive force in the Cubs locker room, mentoring and motivating his fellow players, some of them nearly twenty years his junior. Thanks to Cubs Kris Bryant and Anthony Rizzo, "Grandpa Rossy" became a social media sensation. No one, however, could have predicted that Ross's home run in his final career at bat would help seal the Cubs championship.

Now, in Teammate, Ross shares the inspiring story of his life in baseball, framed by the events of that unforgettable November night.
About the Author
David Ross, manager for the Chicago Cubs, is a retired Major League Baseball catcher, who won the World Series with the Boston Red Sox in 2013 and the Chicago Cubs in 2016. In his fifteen-year career, he played for the Los Angeles Dodgers, Pittsburgh Pirates, San Diego Padres, Cincinatti Reds, Boston Red Sox, Atlanta Braves, and Chicago Cubs.

Praise For Teammate: My Journey in Baseball and a World Series for the Ages…
"After sitting and having lunch with Rossy for over an hour at the ESPN studios in fall 2014, I knew he was exactly what the Cubs needed to help bring a championship to Chicago. His knowledge of hitting, pitching and the game overall was amazing. Couple that with his obvious leadership abilities, and I knew we had to have him. Well, I guess I was right! The past two years with Rossy have been the best of my career. He truly is the best teammate I have ever had!"—Anthony Rizzo, first baseman, Chicago Cubs

"With
his character and commitment, Rossy helped take the team and me to great
places. I am confident he will do the same for you as you read about his
journey on these pages. You will find lessons for sports and for life,
including one he helped teach me long ago: never underestimate the power of a
great teammate."—Theo Epstein, Cubs president of baseball operations (from his Foreword)

"Ross ... has plenty of terrific stories to tell from a
long career in the big leagues.... Ross shares his perspective on what it takes
to be a good teammate and how that role accounted for both his longevity in the
sport and his impact on the Cubs in 2016. He also weighs in with some
compelling inside stories and observations about Maddon, Jon Lester, Jason Heyward, and others
from last year's winners."—Chicago Tribune


"There aren't many backup catchers in baseball history
writing books.... Compelling.... Fascinating inside stories about the 2016
Cubs, told from the perspective of someone who was right in the middle of them...
A good read and worth your time."—Al Yellon, Bleed Cubbie Blue