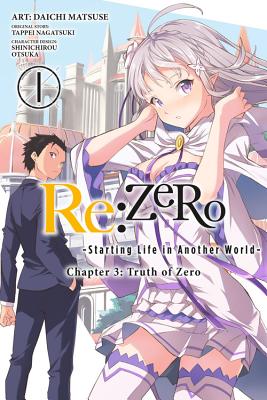 Re:ZERO -Starting Life in Another World-, Chapter 3 (Paperback)
Truth of Zero, Vol. 1 (manga) (Re:ZERO -Starting Life in Another World-, Chapter 3: Truth of Zero Manga #1)
Yen Press, 9780316559461, 176pp.
Publication Date: October 31, 2017
Other Editions of This Title:
Paperback (8/22/2017)
Paperback (10/31/2017)
Paperback (12/19/2017)
Paperback (1/30/2018)
* Individual store prices may vary.
Description
Having survived both his encounter with the demon beasts and the nigh endless week at Roswaal Manor, Subaru returns to the capital of Lugunica with Emilia and Rem. Reuniting with friends and foes alike in the city where it all began, Subaru also lays eyes on the other candidates for queen--Emilia's rivals! Can Emilia win against such formidable opponents? And how will Subaru react when he discovers the shocking identity of the final candidate?
About the Author


Shinichirou Otsuka is the artist of the light novel series RE:Zero.

Tappei Nagatsuki is the author of the light novel series RE:Zero.