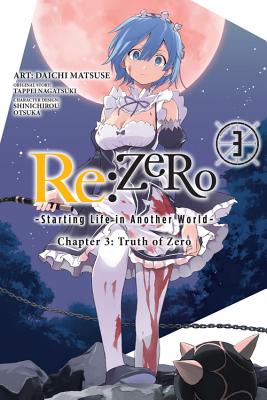 Re:ZERO -Starting Life in Another World-, Chapter 3 (Paperback)
Truth of Zero, Vol. 3 (manga) (Re:ZERO -Starting Life in Another World-, Chapter 3: Truth of Zero Manga #3)
Yen Press, 9780316559515, 160pp.
Publication Date: April 24, 2018
* Individual store prices may vary.
Description
Change the World, One Life at a Time
Whether in a dinner with royal candidate Crusch Karsten or another sparring session with master swordsman Wilhelm, Subaru is often reminded that he has much to learn. However, the opportunity for reflection is cut short when Rem senses peril at Roswaal Manor. Never one to sit still, Subaru races back to the mansion, but what awaits him is not for the faint of heart...
About the Author


Shinichirou Otsuka is the artist of the light novel series RE:Zero.

Tappei Nagatsuki is the author of the light novel series RE:Zero.