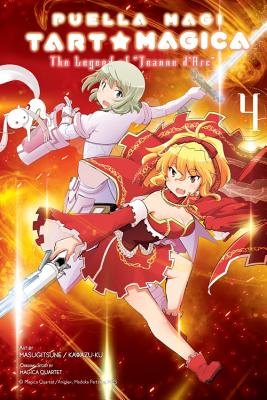 Puella Magi Tart Magica, Vol. 4 (Paperback)
The Legend of Jeanne d'Arc
Yen Press, 9780316560207, 176pp.
Publication Date: September 19, 2017
Other Editions of This Title:
Paperback (11/14/2017)
* Individual store prices may vary.
Description
Fresh from victory at Orléans, the French forces rush to crown Dauphin Charles at Riems. The road soon leads them to Patay, where they will face their most challenging battle yet. The English and French magical-girl battle royal takes a turn for the worst when one of them becomes a witch! Does Tart's tale of hope end here...?
About the Author
Magica Quartet is a team formed of members of anime production studios SHAFT and Aniplex who came together to create "Puella Magi Madoka Magica." Members include Iwakami Atsuhiro, Akiyuki Shinbo, Gen Urobuchi, and Ume Aoki, who is also the creator behind "Sunshine Sketch."