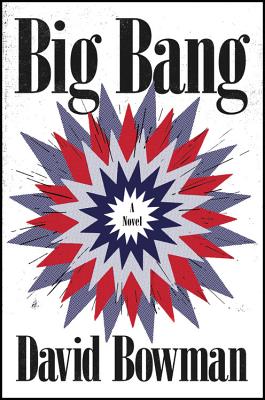 Big Bang
Hardcover

* Individual store prices may vary.
Other Editions of This Title:
Digital Audiobook (1/14/2019)
Paperback (11/19/2019)
Description
Set in the 1950's, this epic, Warholian novel presents a brilliant and wholly original take on the years leading up to the Kennedy assassination.
Where were you when you first heard President Kennedy had been shot? This is a question most people can answer, even if the answer is "I wasn't born yet." In this epic novel, David Bowman makes the strong case that the shooting on November 22nd, 1963 was the major, defining turning point that catapulted the world into an entirely new stratosphere. It was the second big bang.
In this hilarious, lightning-fast historical novel, Bowman follows the most famous couples of the decade as their lives are torn apart by post-war's new normal. We see Lucille Ball's bizarre interrogation by the House UnAmerican Activities Committee and Jackie Onassis' moonlight cruise with Frank Sinatra . We follow Norman Mailer and Arthur Miller as they attempt to get quickie divorces together at a loophole resort in Nevada and watch a young Howard Hunt snoop around South America with the newly founded CIA. A young Jimi Hendrix, now the epitome of counterculture cool, tries his luck as a clean cut army recruit.
Written with an almost documentary film like intensity, BIG BANG is a posthumous work from the award-winning author of Let the Dog Drive. A riotous account of a country, perhaps, at the beginning of the end.
Praise For Big Bang…
"During this vast assembly,
there are plenty of examples of Bowman's talent....In all of his novels, there's
vitality, humor and imagination that deserve to be remembered."
—
New York Times
"There are dozens of
plots, which Bowman juggles with an agility that's breathtaking... he writes with
a real focus... His prose is elegant but stubbornly unshowy. "Big Bang" is a
stunningly accomplished novel, both deeply American and deeply weird."
—
Los Angeles Times
"Big Bang
is a historical novel like no other I've read. Alternately sharp and generous, it is not so much a recitation verité as an emceed re-enactment of key events of the 50s and early 60s."
—
Susan Isaacs, New York Times bestselling author of Goldberg Variations and As Husbands Go
Little, Brown and Company, 9780316560238, 624pp.
Publication Date: January 15, 2019
About the Author
Born in Racine, Wisconsin on December 8, 1957, David Bowman's interest in writing first emerged while studying music at the Interlochen Arts Academy High School. He briefly attended Putney College in Vermont, before moving to New York to write while working as a bartender and as a clerk at a bookstore. His works include Let the Dog Drive, Bunny Modern, and This Must Be the Place. He died from a cerebral hemorrhage in 2012 at the age of 54.
or
Not Currently Available for Direct Purchase