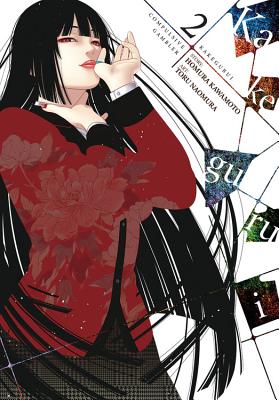 Kakegurui - Compulsive Gambler -, Vol. 2 (Paperback)
Yen Press, 9780316562980, 240pp.
Publication Date: September 19, 2017
Other Editions of This Title:
Paperback (12/17/2019)
Paperback (6/18/2019)
Paperback (3/26/2019)
Paperback (11/21/2017)
Paperback (10/30/2018)
Paperback (2/6/2018)
Paperback (7/24/2018)
Paperback (5/8/2018)
* Individual store prices may vary.
Description
Losing big to a member of the student council, Yumeko finds herself deeply in debt and cast down to the rank of "house pet" in the Hyakkaou Academy hierarchy. With her future hanging in the balance, the student council tournament may be Yumeko's only shot at redemption. Teaming up with former rival Mary, currently suffering the same sub-human indignity, Yumeko and her new partner are prepared to go all in for another shot at the high life. But will luck favor these ladies...?
About the Author
Homura Kawamoto is the author behind Kakegurui - Compulsive Gambler -.

Toru Naomura is the artist behind Kakegurui - Compulsive Gambler-.