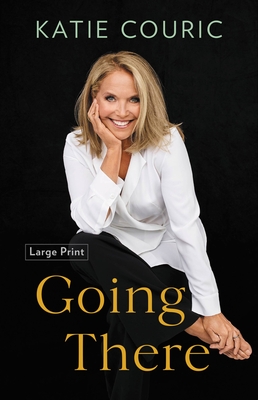 Going There
Hardcover

* Individual store prices may vary.
Other Editions of This Title:
Digital Audiobook (10/25/2021)
Hardcover (10/26/2021)
Paperback (6/28/2022)
CD-Audio (12/7/2021)
Description
This heartbreaking, hilarious, and brutally honest memoir shares the deeply personal life story of a girl next door and her transformation into a household name.

For more than forty years, Katie Couric has been an iconic presence in the media world. In her brutally honest, hilarious, heartbreaking memoir, she reveals what was going on behind the scenes of her sometimes tumultuous personal and professional life - a story she's never shared, until now. Of the medium she loves, the one that made her a household name, she says, "Television can put you in a box; the flat-screen can flatten. On TV, you are larger than life but smaller, too. It is not the whole story, and it is not the whole me. This book is."

Beginning in early childhood, Couric was inspired by her journalist father to pursue the career he loved but couldn't afford to stay in. Balancing her vivacious, outgoing personality with her desire to be taken seriously, she overcame every obstacle in her way: insecurity, an eating disorder, being typecast, sexism . . . challenges, and how she dealt with them, setting the tone for the rest of her career. Couric talks candidly about adjusting to sudden fame after her astonishing rise to co-anchor of the TODAY show, and guides us through the most momentous events and news stories of the era, to which she had a front-row seat:  Rodney King, Anita Hill, Columbine, the death of Princess Diana, 9/11, the Iraq War . . . In every instance, she relentlessly pursued the facts, ruffling more than a few feathers along the way.  She also recalls in vivid and sometimes lurid detail the intense pressure on female anchors to snag the latest "get"—often sensational tabloid stories like Jon Benet Ramsey, Tonya Harding, and OJ Simpson.

Couric's position as one of the leading lights of her profession was  shadowed by the shock and trauma of losing her husband to stage 4 colon cancer when he was just 42, leaving her a widow and single mom to two daughters, 6 and 2. The death of her sister Emily, just three years later, brought yet more trauma—and an unwavering commitment to cancer awareness and research, one of her proudest accomplishments.

 Couric is unsparing in the details of her historic move to the anchor chair at the CBS Evening News—a world rife with sexism and misogyny.  Her "welcome" was even more hostile at 60 Minutes, an unrepentant boys club that engaged in outright hazing of even the most established women.  In the wake of the MeToo movement, Couric shares her clear-eyed reckoning with gender inequality and predatory behavior in the workplace, and downfall of Matt Lauer—a colleague she had trusted and respected for more than a decade.

Couric also talks about the challenge of finding love again, with all the hilarity, false-starts, and drama that search entailed, before finding her midlife Mr. Right.  Something she has never discussed publicly—why her second marriage almost didn't happen. 

If you thought you knew Katie Couric, think again. Going There is the fast-paced, emotional, riveting story of a thoroughly modern woman, whose journey took her from humble origins to superstardom. In these pages, you will find a friend, a confidante, a role model, a survivor whose lessons about life will enrich your own.
Praise For Going There…
"Going There is jam-packed with honesty, humor, and helpful advice for every woman blazing her own path. I admired Katie Couric before, but after reading Going There, I absolutely love her. When you read about the real Katie in these pages, you will too."—Glennon Doyle, author of the #1 bestseller Untamed and host of the We Can Do Hard Things podcast

"Couric's actual living voice—one of the most human and wise of our times—is on every single line of this memoir, but "memoir" is reductive. This is memoir as time capsule, memoir as therapy session, memoir as masterpiece. Memoir as Necessity. It is aggressively, gorgeously human,  the very book we needed for this time. You will feel thankful, as though Katie Couric has been an angel on your shoulder, she's been with you this whole time, and now, thank God, she's ready to show you the other side."—Lisa Taddeo, bestselling author of Three Women

"The secret to Katie Couric's success is that there are no secrets. While the dogged determination she has called upon her whole life is  an invaluable asset, there are other ingredients in Katie's not-so-secret sauce: humor, concern, sincerity, steadfastness, and devotion to her daughters, family, and friends. If Katie is "going there," no matter where "there" is, we're along for the ride."—Michael J. Fox, bestselling author of No Time Like the Future

"The woman we've counted on for decades to tell the most important stories of our time is finally telling her own. And nothing is off the record. This no-holds-barred account of Katie's rise to TV fame—while juggling motherhood, crushing loss, and brushes with failure—delivers on its title. She writes with a raw honesty and been-there-lived-that sensibility that every woman on the rise will benefit from. Brimming with heart and sheer grit, it's a masterclass in resilience and overcoming every obstacle on the way to success."—Elaine Welteroth, bestselling author and award-winning journalist

"Fast-paced and riveting, Going There is an intimate memoir that chronicles the once magical world of TV news.  Every young woman should read this book to understand what ambition really feels like and the work it takes to fulfill it."—Tina Brown

"Funny, sincere, heartbreaking — Couric chronicles her upbringing, career in TV journalism, cutthroat pressures and boys club hazing of the biz, the downfall of her co-anchor Matt Lauer, as well as the death of her husband at the young age of 42 and finding love again. Looking for a new BFF? You'll find one here."
 —Lesley Kennedy, CNN

"Longtime 'Today' co-anchor Couric, once known as 'America's Sweetheart,' shows that she's really 'America's Role Model' in a frank, funny memoir about her journey from Arlington, Va., high school cheerleader to a leading voice for cancer research as well as first-rank investigative journalist. Some superstar books can be skipped; this one shouldn't be."—Bethanne Patrick, The Washington Post

"The book is a lot of things: a very juicy autobiography, full of sex and gossip and bizarre celebrity encounters and familial revelation, as well as an account of the rampant misogyny within the industry in which Couric rose. Like Couric herself, it is surprisingly spiky and weird and seemingly committed to absolute chaos. It is the work of someone who, if not ready to fully analyze her place in often-abusive hierarchies, is curious enough about those hierarchies to lay out her experiences in ways that are not flattering, either to the news business or to herself...A celebrity tell-all that by its nature should have been interesting only to Couric's longtime fans [but] turns out to be a startling and capacious historic document."—Rebecca Traister, NYMag (The Cut)

"I zipped through this memoir, only slowing down for some cleverly interspersed news clips and the occasional outburst of singing. I found Couric's sensitive  descriptions of her bouts with family loss thoughtful and moving; her honest forthrightness about her sometimes lopsided work experiences gripping and delicious."—Marshall Heyman, Vulture (NYMag)

"There is no relentless people-pleasing in her fearlessly frank memoir, a wildly entertaining and often emotional ride through the volatile media landscape of the last 40 years in which no subject is off limits…she was in a class of her own…Being described as "perky" and "America's Sweetheart" overshadowed her real accomplishments as a journalist capable of hard-hitting interviews. It also made her a favorite target for the tabloids and the long lenses of paparazzi. This much hasn't changed: Couric has been pilloried in the press over early leaks of "Going There," …understandable she would want to protect her turf; every woman who made a strong impression at NBC News was touted by the press as a replacement…Despite early reports, Couric doesn't really go over the top in her critiques of former colleagues at NBC. The brunt of her barbs are aimed at CBS. If you're a producer or executive who worked with her there and don't see your name in the index of "Going There," consider yourself extremely fortunate…Couric also provides a deftly written tick-tock on her reaction to the downfall of her longtime co-anchor Matt Lauer. It's compassionate without excusing his behavior, to which she was admittedly oblivious when she worked with him. But civilians who read "Going There" will be most transfixed by Couric's raw and unvarnished account of losing her first husband, attorney Jay Monahan, to colon cancer at the age of 42."
 —Stephen Battaglio, Los Angeles Times
Little, Brown and Company, 9780316593311, 736pp.
Publication Date: October 26, 2021
About the Author
Katie Couric (@katiecouric) is an award-winning journalist, New York Times bestselling author and a​ co-​founder of Stand ​Up To Cancer (SU2C). Since its launch in 2008, Stand Up To Cancer has raised more than $600 million to support cutting-edge collaborative science and its research has contributed to six new FDA approved therapies.  

In 2017, she founded Katie Couric Media (KCM), which has developed a number of media projects, including a daily newsletter, a podcast, digital video series and several documentaries.  KCM works with purpose driven brands to create premium content that addresses important social issues like gender equality, environmental sustainability and mental health.  

Previous documentaries produced by KCM include: ​America Inside Out with Katie Couric​, a six-part series for National Geographic;​ Gender Revolution: A Journey with Katie Couric​, for National Geographic; ​Under the Gun​, which aired on EPIX; and ​Fed Up​, available on iTunes, Amazon and YouTube. Couric was also the executive producer of ​Unbelievable​ on Netflix and is developing other scripted projects. 

Couric was the first woman to solo anchor a network evening newscast, serving as anchor and managing editor of the ​CBS Evening News​ from 2006 to 2011 following 15-years as co-anchor of NBC's ​Today​ show. She also hosted a syndicated show and served as the Yahoo Global News Anchor until 2017.

She has won a duPont-Columbia, a Peabody, two Edward R. Murrows, a Walter Cronkite Award, and multiple Emmys.  She was twice named one of Time magazine's 100 most influential people and was a Glamour Magazine woman of the year three times.  She has also received numerous awards for her cancer advocacy work; honored by both the Harvard and Columbia schools of public health, the American Cancer Society and The American Association of Cancer Researchers.  

In addition to writing ​The Best Advice I Ever Got: Lessons from Extraordinary Lives, Couric is the author of two books for children.