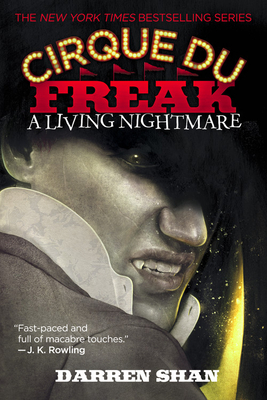 A Cirque Du Freak
A Living Nightmare
Paperback

* Individual store prices may vary.
Description
From the Master of Horror comes the first gripping book in the twelve book New York Times bestselling Saga of Darren Shan. Start the tale from the beginning in the book that inspired the feature film The Vampire's Assistant and petrified devoted fans worldwide.

A young boy named Darren Shan and his best friend, Steve, get tickets to the Cirque Du Freak, a wonderfully gothic freak show featuring weird, frightening half human/half animals who interact terrifyingly with the audience. In the midst of the excitement, true terror raises its head when Steve recognizes that one of the performers-- Mr. Crepsley-- is a vampire!

Stever remains after the show finishes to confront the vampire-- but his motives are surprising! In the shadows of a crumbling theater, a horrified Darren eavesdrops on his friend and the vampire, and is witness to a monstrous, disturbing plea. As if by destiny, Darren is pulled to Mr. Crepsley and what follows is his horrifying descent into the dark and bloody world of vampires.

This is the beginning of Darren's story.
Praise For A Cirque Du Freak: A Living Nightmare…
Cirque Du Freak:
"Fast-paced and compelling, full of satisfying macabre touches, Cirque Du Freak explores the powerful fascination of the dangerous and unnatural and also, movingly, the obligations of friendship."
-J.K. Rowling, author of the Harry Potter series

"Book one in the Saga of Darren Shan is poised to capture a wide audience of series horror readers." -Publishers Weekly

"Will leave readers begging for more."
-Booklist

The Vampire's Assistant:
"Gross-out horror fans will devour it and clamor for the next in the series." -Kirkus Reviews

"Shan creates heart-pounding, page-turning action that will keep kids reading." -School Library Journal

Praise for Tunnels of Blood
"Described in stomach-churning detail, the story is compulsively readable. But it's not for the squeamish." -School Library Journal

Little, Brown Books for Young Readers, 9780316605106, 272pp.
Publication Date: June 1, 2002
About the Author
Darren Shan is the bestselling author of the young adult series Cirque Du Freak, The Demonata, and the Saga of Larten Crepsley series, as well as the stand-alone book The Thin Executioner. His books have sold over 25 million copies worldwide. Shan divides his time between his homes in Ireland and London.