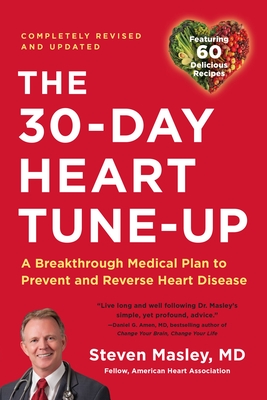 30-Day Heart Tune-Up
A Breakthrough Medical Plan to Prevent and Reverse Heart Disease
Paperback

* Individual store prices may vary.
Other Editions of This Title:
Digital Audiobook (5/10/2021)
Digital Audiobook (2/3/2014)
Hardcover (2/4/2014)
Compact Disc (5/11/2021)
Compact Disc (5/11/2021)
Description
Follow this step-by-step program to optimize your cardiovascular health, boost your energy, slim your waistline, and heat up your sex life—all while enjoying sixty delicious recipes!
​
Cardiovascular disease is America's #1 killer, and while most doctors focus on lowering cholesterol and blood pressure they are overlooking the real culprits: arterial plaque and poor gut health.
The good news is that everyone—regardless of size, genetics, gender, or age—can treat arterial plaque, improve their overall health, and prevent heart attacks and strokes with The 30-Day Heart Tune-Up. Inside, you'll discover:
A delicious, heart-healthy diet designed to supercharge your heart health
Exercises to improve circulation and strengthen your entire cardiovascular system
Creative and effective techniques for stress management
A customized supplement plan
Cutting-edge science on the fascinating ways the bacteria in your gut can affect the health of your heart.
This fully revised and updated edition of
The 30-Day Heart Tune-Up
includes the latest science on the surprising connections between your gut and your heart as well as tons of new information on reducing cardiovascular risk factors like obesity, high blood sugar, high cholesterol, and chronic inflammation through diet and exercise, it will help you get healthy—and stay healthy—for life.
Praise For 30-Day Heart Tune-Up: A Breakthrough Medical Plan to Prevent and Reverse Heart Disease…
"Take care of your heart and live long and well following Dr. Masley's simple, yet profound, advice. It's a program everyone can follow and I highly recommend it."—Daniel G. Amen, MD, author of The End of Mental Illness

"Dr. Masley's program has the potential to be the "Heart Cure" America desperately needs. Get on this inspiring, breakthrough plan!"—Sara Gottfried, MD, author of Brain Body Diet

"Dr Masley's 30-Day Heart Tune-Up is a state-of-the-art program for preventing and reversing heart disease. His breakthrough supplement recommendations will help all Americans tune-up not only their hearts, but their energy, their waistline, and their sex lives, too."—JJ Virgin, author of The Virgin Diet

"In the spirit of Hippocrates, Dr Masley's empowering 30-Day Heart Tune-Up reveals how specific lifestyle changes rival the pharmaceutical approach to enhancing heart health."—David Perlmutter MD, author of Brain Wash and Grain Brain

"Dr. Steven Masley brings his passion and experience to his comprehensive prescription for the prevention of heart disease."—Michelle May, MD, author of Eat What You Love, Love What You Eat

"Not only will Dr. Masley's 30-Day Heart Tune-Up program be great for your heart, but it will be terrific for your sex life, too!"—Anna Cabeca, DO, FACOG, creator of the Sexy Younger You program

"We all know that the food we eat and the exercise we do is vital to our health. Dr Masley's has used his profound knowledge and experience to write an easy to understand practical book. It is Essential reading for any-one wishing to live a heart-healthy life."—Fleur Sack, MD, Former President Florida Academy of Family Physicians

"Dr Masley has made a career around helping patients achieve cardiovascular fitness in ways that are understandable and implementable. While making common sense inroads he also pushes the professional envelope and challenges the healthcare profession to do better. The overall aspects of this book are excellent and on target; eat well, get fit, manage stress."—Bruce Flareau, MD, Former President Florida Academy of Family Physicians, Executive Vice President, BayCare Health System

"Many believe that the preventive and therapeutic aspects of heart disease is as complicated as rocket science. It's not! Dr. Masley has created a simple, easy, strategic plan to enhance cardiovascular healing. This is a very important book for anyone who is vulnerable to heart disease and especially those who have malignant family histories of heart disease. Highly recommended!"—Stephen T. Sinatra, MD, cardiologist and co-author of The Great Cholesterol Myth
Little, Brown Spark, 9780316628181, 432pp.
Publication Date: March 23, 2021
About the Author
Steven Masley, MD, is a physician, nutritionist, trained chef, author, and the creator of the #1 health program for Public Television, 30 Days to a Younger Heart. He is a fellow with the American Heart Association and American College of Nutrition. His research focuses on the impact of lifestyle choices on brain function, heart disease, and aging. A bestselling author, he has published several books, including Ten Years Younger, The 30-Day Heart Tune-Up, Smart Fat, The Better Brain Solution, and The Mediterranean Method. His work has been seen by millions on PBS, the Discovery Channel, Today, and many other outlets.