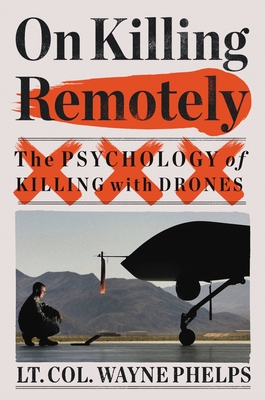 On Killing Remotely
The Psychology of Killing with Drones
Hardcover

* Individual store prices may vary.
Other Editions of This Title:
CD-Audio (6/8/2021)
Description
A "can't-miss for anyone interested in current military affairs," On Killing Remotely reveals and explores the costs—to individual soldiers and to society—of the way we wage war today (Kirkus Reviews, starred). 

Throughout history society has determined specific rules of engagement between adversaries in armed conflict.  With advances in technology, from armor to in the Middle Ages to nerve gas in World War I to weapons of mass destruction in our own time, the rules have constantly evolved.  Today, when killing the enemy can seem palpably risk-free and tantamount to playing a violent video game, what constitutes warfare?  What is the effect of remote combat on individual soldiers?  And what are the unforeseen repercussions that could affect us all?
Lt Col Wayne Phelps, former commander of a Remotely Piloted Aircraft unit, addresses these questions and many others as he tells the story of the men and women of today's "chair force."  Exploring the ethics of remote military engagement, the misconceptions about PTSD among RPA operators, and the specter of military weaponry controlled by robots, his book is an urgent and compelling reminder that it should always be difficult to kill another human being lest we risk losing what makes us human.
Praise For On Killing Remotely: The Psychology of Killing with Drones…
"A penetrating look inside the military units operating armed drones on remote battlefields around the world…Drone warfare is seemingly ubiquitous, and Phelps delivers a clear report on how it works and how it affects the users. A can't-miss for anyone interested in current military affairs."—Kirkus Reviews

"An essential read…We have crossed a new frontier in the age-old story of war."—P. W. Singer, author of Wired for War and Ghost Fleet

"The most impressive and comprehensive account of 21st-century remote air warfare…A mesmerizing read: I was gripped from the first page to the last."—Professor Peter Lee, author of Reaper Force

"A crucial 360° look at how remote warfare affects the crews fighting from afar."—Major Scott Swanson, USAF (retired)

"Phelps pulls back the curtain on the high-demand RPA force…An insightful look at a uniquely gifted community of warriors."—Lt. General Robert F. Hedelund, USMC

"The psychology of RPA combat is as secretive as the airframes themselves—remote, mysterious, and hard to find… This book should be required reading for all warriors."—Karen House, MA, MSW, LMSW, LPC

"Phelps brings a crucial voice of analytical nuance…Insightful and thought-provoking."
 —Ian MacLeod, former co-chair of the International Panel on the Regulation of Autonomous Weapons

"A seminal work in understanding the toll that killing remotely takes on the people who operate and support lethal remotely piloted aircraft."—Major General James Poss, USAF (retired)

"An extraordinary achievement…Destined to become a classic."—Mitt Regan, Georgetown University Law Center
Little, Brown and Company, 9780316628297, 368pp.
Publication Date: June 8, 2021
About the Author
Lt Col Kenneth Wayne Phelps (USMC, Retired) served five deployments in Iraq and Afghanistan between 2001 and 2012. His military career coincided with the escalating use of drones as weapons, and in the two years prior to his retirement in 2018 he served as commanding officer of four Unmanned Aircraft System teams abroad to fight violent extremist organizations.