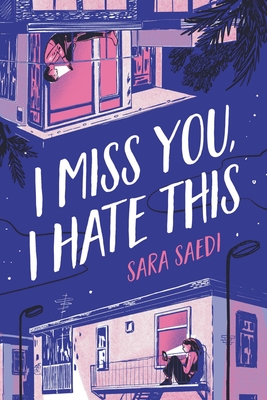 I Miss You, I Hate This
Hardcover

* Individual store prices may vary.
Description
The lives of high school seniors Parisa Naficy and Gabriela Gonzales couldn't be more different. Parisa, an earnest and privileged Iranian American, struggles to live up to her own impossible standards. Gabriela, a cynical Mexican American, has all the confidence Parisa lacks but none of the financial stability. She can't help but envy Parisa's posh lifestyle whenever she hears her two moms argue about money. Despite their differences, as soon as they met on the first day of freshman year, they had an "us versus the world" mentality. Whatever the future had in store for them—the pressure to get good grades, the litany of family dramas, and the heartbreak of unrequited love—they faced it together. Until a global pandemic forces everyone into lockdown. Suddenly senior year doesn't look anything like they hoped it would. And as the whole world is tested during this time of crisis, their friendship will be, too.

With equal parts humor and heart, Parisa's and Gabriela's stories unfold in a mix of prose, text messages, and emails as they discover new dreams, face insecurities, and confront their greatest fears.
Praise For I Miss You, I Hate This…
"Sara Saedi's I Miss You, I Hate This is a book you'll miss as soon as you put it down. This magical novel is like being inside a friendship, with all the love, heartache, and laughter a best friend brings us. Saedi poignantly reminds us that connection is always more powerful than isolation."—Abdi Nazemian, author of Stonewall Honor book Like a Love Story and The Chandler Legacies
Poppy, 9780316629829, 352pp.
Publication Date: October 11, 2022
About the Author
Sara Saedi is the author of the memoir Americanized: Rebel Without a Green Card and the Never Ever series. She is also a television writer, most recently working on the upcoming Green Lantern series for HBO Max. She lives in Los Angeles with her husband and two sons.