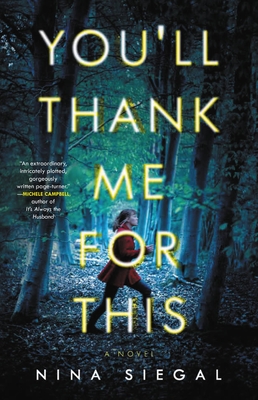 You'll Thank Me for This
A Novel
Hardcover

* Individual store prices may vary.
Other Editions of This Title:
Digital Audiobook (3/22/2021)
Description
A pulse-pounding psychological thriller based on the popular Dutch tradition of blindfolding and dropping teens and pre-teens in the middle of a forest — and what happens when it goes horribly wrong.
 
Twelve-year old Karin is blindfolded and dropped into the Hoge Veluwe National Forest with three other children. With nothing but a few basic supplies and emergency food, the children are tasked with working together to navigate one of the Netherlands' most beautiful and wild locations and return to where their families are anxiously waiting.
 
Karin quickly finds herself at odds with two of the older teens, and suddenly looks up to see that the other children have vanished. As Karin struggles against the elements to find her way back, she soon realizes that something far more sinister lurks in the woods.
 
Grace, Karin's mother and an American married to a Dutch husband, has been nervous about this practice from the start. At first she tells herself the space is good for her daughter, but as the hours begin to tick by and the children fail to arrive at their designated campsite, she becomes certain something has gone horribly wrong. 
 
As Karin fights for survival, and Grace hastens to find her daughter, the night culminates in the reveal of a deadly secret—and a shocking confrontation—that will push each of them to her edge.
Praise For You'll Thank Me for This: A Novel…
"Suspenseful…Three-dimensional characters match the clever plotting. Siegal knows how to keep the pages turning."
 —Publishers Weekly

"An adrenaline rush of a novel. I tore through You'll Thank Me For This by Nina Siegal in one nail-biting sitting. . . . Gripping and fast-paced, this is a novel not to be missed."—Heather Gudenkauf, New York Times bestselling author of The Weight of Silence and This is How I Lied

"When I heard Nina Siegal's You'll Thank Me for This was based on the Dutch tradition of dropping kids in the forest to find their own way home—yes, it's real, and yes, it still happens—I pushed it to the tippy top of my pile. What begins with every parent's worst nightmare quickly evolves into a twisty, stay-up-too-late stunner, a tense and atmospheric tale that will make you take another look at the people you think you know." —Kimberly Belle, author of Dear Wife and Stranger in the Lake

"You'll Thank Me for This is a whirlwind of a novel you'll tear through in a night. An American woman living in the Netherlands allows her pre-teen daughter to participate in a "dropping," the Dutch rite-of-passage of blindfolding and leaving your kids in the forest at night to survive. The idea of this is daunting to any parent, but in Siegal's fast-paced novel, things get even more terrifying than your daughter losing her supply backpack. You'll Thank Me for This is a smart, scary, and poignant book that you won't forget."
 —Jen Conley, author of Cannibals and the Anthony Award-winning Seven Ways to Get Rid of Harry

"An extraordinary, intricately plotted, gorgeously written page-turner. So propulsive that I inhaled it in one sitting. So good that I want to read it again and savor it."
 —Michele Campbell, internationally bestselling author of It's Always the Husband

"A psychologically scorching domestic noir. You'll Thank Me For This, opens with a survival weekend in the woods, and by the end, has exposed the wilderness of mirrors inside each of us. You may never truly know anyone in Nina Seigal's world, but you'll be sure she can make your pulse pound, turn the political into the personal, and write mother-daughter relationships with a rare honesty and sensitivity." 
 —Aly Mennuti, author of Real Fake

"Clear your schedule—You'll Thank Me For This is a can't-put-it-down thrill ride that will make you late to your next Zoom call.  From the fascinating Dutch tradition of wilderness "dropping" to the white-knuckle ending, I whizzed through this smart, scary novel."   —Emily Gray Tedrowe, author of The Talented Miss Farwell

"Like Karin, dropped blindfolded into the forest, readers of Nina Siegal's new thriller are spun from one psychological extreme to the other as a spiraling mystery unfolds, page by page. Propelled by the dual narrative of a resourceful child and her frantic mother, You'll Thank Me for This keeps the tension high and the reader guessing. This is a compulsively addictive tale."—Steph Post, author of Miraculum and Holding Smoke
Mulholland Books, 9780316703567, 256pp.
Publication Date: March 23, 2021
About the Author
Nina Siegal is an American novelist and journalist who's lived in Amsterdam for fifteen years. She has previously published two novels (the first a literary mystery), and she is a regular contributor to the New York Times, covering European culture. She also writes and edits for many other international publications. Born in New York City, and raised in the city and Long Island, she graduated from Cornell University with a BA in English Literature and received her MFA in fiction from the Iowa Writers' Workshop. She lives with her daughter, Sonia, who was born and raised in Amsterdam, and their dog, Coco.