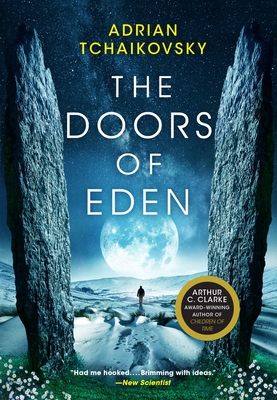 The Doors of Eden
Paperback

* Individual store prices may vary.
Description
From the Arthur C. Clarke Award-winning Adrian Tchaikovsky, The Doors of Eden is an extraordinary feat of the imagination and a page-turning adventure about parallel universes and the monsters that they hide.
They thought we were safe. They were wrong.
Four years ago, two girls went looking for monsters on Bodmin Moor. Only one came back.
Lee thought she'd lost Mal, but now she's miraculously returned. But what happened that day on the moors? And where has she been all this time? Mal's reappearance hasn't gone unnoticed by MI5 officers either, and Lee isn't the only one with questions.
Julian Sabreur is investigating an attack on top physicist Kay Amal Khan. This leads Julian to clash with agents of an unknown power - and they may or may not be human. His only clue is grainy footage, showing a woman who supposedly died on Bodmin Moor.
Dr Khan's research was theoretical; then she found cracks between our world and parallel Earths. Now these cracks are widening, revealing extraordinary creatures. And as the doors crash open, anything could come through.
"Tchaikovsky weaves a masterful tale... a suspenseful joyride through the multiverse." (Booklist)
Praise For The Doors of Eden…
"Inventive, funny and engrossing, this book lingers long after you close it"—Tade Thompson, Arthur C. Clarke Award-winning author of Rosewater

"Full of sparking, speculative invention . . . The Doors of Eden is a terrific timeslip / lost world romp in the grand tradition of Turtledove, Hoyle, even Conan Doyle. If you liked Primeval, read this book"—Stephen Baxter

"What a ride . . . talks like big-brained science fiction and runs like a fleet-footed political thriller"—John Scalzi

"With The Doors of Eden, Tchaikovsky has created a fantastic and highly imaginative new genre: evolution SF"—Peter F. Hamilton

"Tchaikovsky weaves a masterful tale about how each version of Earth diverged during the various Epochs of its billion-year history. A frozen world computer mind, peaceful brilliant Neanderthals, family-friendly weasels out of a steampunk nightmare, gargantuan spacefaring trilobites, and even feathered dinosaurs combine for a suspenseful joyride through the multiverse."—Booklist

"Tchaikovsky's world-building is some of the best in modern sci-fi and now he has made an enchanting multiverse of parallel Earths"—New Scientist
Orbit, 9780316705806, 640pp.
Publication Date: September 22, 2020
About the Author
Adrian Tchaikovsky is the author of Children of Time, Children of Ruin and many other novels, novellas and short stories. Children of Time won the Arthur C. Clarke award in its 30th anniversary year.