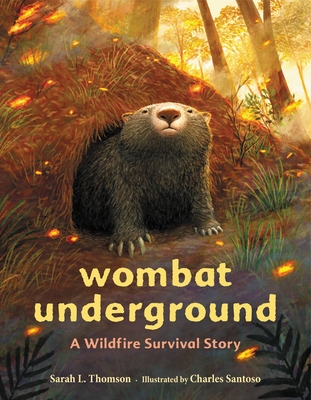 Wombat Underground
A Wildfire Survival Story
Hardcover

* Individual store prices may vary.
Description
Inspired by viral online stories during the 2019-2020 wildfires in Australia featuring wombats 'saving' other animals taking shelter in their burrows, here is a lyrical story about strangers in need of refuge.

Up on the hill, Wallaby licks a puddle's last drop. Skink slips into the shade. Echidna hides in grass as dry as tinder. Under the hill, Wombat carves out a cave that's all his own. Then—KABOOM!—lightning strikes.

Written in simple and concise language perfect for a read aloud, award-winning author Sarah L. Thomson invites readers to see through the eyes of a wombat as a fire rages through Australian outback. Nearly 3 billion animals were affected by the Australian wildfires of 2019-2020, and wombats played a crucial part in allowing their homes to transform as safe havens for other animals whose homes were destroyed in the fires. Paired with stunning and richly layered art by Charles Santoso, Wombat Underground teaches us that the time of greatest danger is also the time to open our door to those in the greatest need.
Praise For Wombat Underground: A Wildfire Survival Story…
"The warmly colored illustrations are splendid, providing realistic depictions of the animals and the landscapes surrounding them…. A charming introduction to creatures native to Australia and a wake-up call to care for our planet."
—
Kirkus Reviews
"In this dramatic tale set in Australia, a wombat's underground burrow shelters other wild animals trying to escape a wildfire…. Thomson builds suspense…. [while] illustrations by Santoso [are] naturalistically rendered and vivid with detail."
—
Publishers Weekly
"A gentle and compassionate introduction to an extraordinary group of animals and an increasingly relevant topic."—
Booklist
* "In an emotionally strong picture book based on natural science, a wombat generously opens his home to other Australian creatures fleeing from a bushfire."—
Shelf Awareness, starred review
"Visually arresting…. The beauty of the wilderness is captured from a variety of perspectives and the details of fire season and its impact are not only told through the narrative but also through informative back matter….Does an admirable job of capturing realistic details along with a 'hero saves the day' story."—
School Library Journal
Little, Brown Books for Young Readers, 9780316707060, 32pp.
Publication Date: January 11, 2022
About the Author
Sarah L. Thomson has published more than forty books, including award-winning prose for children and young adults, fiction and nonfiction, picture books and novels. Her work includes poetry for the youngest readers as well as nonfiction about gorillas, sharks, plesiosaurs, saber-toothed cats, and other fascinating creatures. Sarah lives in Portland, Maine and she invites you to visit her at www.sarahlthomson.com.
 
Charles Santoso has illustrated many books, including Dandy by Ame Dyckman, I Don't Like Koala! by Sean Ferrell, the New York Times bestseller Wishtree by Katherine Applegate, and Ida, Always by Caron Levis. He moves between different countries to live and work but calls Sydney, Australia home. He invites you to visit him at www.charlessantoso.com.