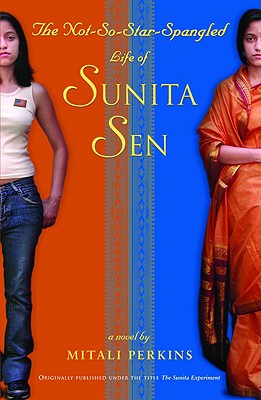 The Not-So-Star-Spangled Life of Sunita Sen
Paperback

* Individual store prices may vary.
Description
As Indian culture continues to curry the movies, music, and literature of American culture, the time is perfect to re-introduce this Indian-themed novel about a young girl's heart-felt attempt to straddle her two worlds. Like any other eighth grader, smart and spunky Sunita Sen just wants to fit in. She feels she's doing pretty well, especially as her friendship with the school's tennis star starts to blossom into something more. But when Sunita's grandparents come from India to stay with her family, her lifestyle changes, and Sunita suddenly becomes aware of identity issues she's never before faced. Should she hide her heritage and be like everyone else, or can she find a way to embrace it? Originally published in 1993 as The Sunita Experiment, this touching yet light-hearted tale is back in print in hard and soft cover with a snappy new title, a spectacular jacket design, and a reader's guide.
Little, Brown Books for Young Readers, 9780316734530, 192pp.
Publication Date: April 6, 2005
About the Author
Mitali Perkins has written articles for numerous magazines and has worked as a teacher and visiting professor. Her first middle grade novel The Sunita Experiment was originally published by Little, Brown in 1993 and was featured in the New York Times. Her YA novel Monsoon Summer was published in August 2004 (Random House).