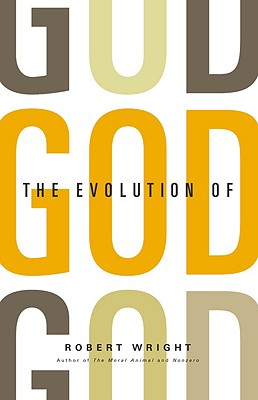 The Evolution of God (Hardcover)
Little, Brown and Company, 9780316734912, 576pp.
Publication Date: June 8, 2009
* Individual store prices may vary.
Description
In this sweeping narrative that takes us from the Stone Age to the Information Age, Robert Wright unveils an astonishing discovery: there is a hidden pattern that the great monotheistic faiths have followed as they have evolved. Through the prisms of archaeology, theology, and evolutionary psychology, Wright's findings overturn basic assumptions about Judaism, Christianity, and Islam, and are sure to cause controversy. He explains why spirituality has a role today, and why science, contrary to conventional wisdom, affirms the validity of the religious quest. And this previously unrecognized evolutionary logic points not toward continued religious extremism, but future harmony.

Nearly a decade in the making, The Evolution of God is a breathtaking re-examination of the past, and a visionary look forward.
About the Author
Robert Wright is the author of Nonzero, The Moral Animal, and Three Scientists and Their Gods. He is a contributing editor to the New Republic, Time, and Slate, and he runs www.BloggingHeads.com, a rapidly growing Web site for intellectual discourse. He has also taught in the Philosophy Department of Princeton University and the Psychology Department at the University of Pennsylvania. He lives in New Jersey.
Praise For The Evolution of God…
PRAISE FOR The Evolution of God:

"In his brilliant new book, The Evolution of God, Robert Wright tells the story of how God grew up. He starts with the deities of hunter-gatherer tribes, moves to those of chiefdoms and nations, then on to the polytheism of the early Israelites and the monotheism that followed, and then to the New Testament and the Koran, before finishing off with the modern multinational Gods of Judaism, Christianity and Islam. Wright's tone is reasoned and careful throughout...and it is nice to read about issues like the morality of Christ and the meaning of jihad without getting the feeling that you are being shouted out...Provocative and controversial."—Paul Bloom, New York Times Book Review

"On any list of nonfiction authors that many people may not know but should, Robert Wright would rank high. . . . taken together, The Moral Animal, Nonzero, and The Evolution of God represent a powerful addition to modern thought. If biology, culture and faith all seek a better world, maybe there is hope."—Gregg Easterbrook, Wall Street Journal

"While the diatribes of the "new atheists"-Richard Dawkins, Sam Harris, and company-have made headlines in recent years, Wright takes a decidedly more friendly approach to human religiousness...Wright's approach will appeal to a broad range of readers turned off by the "either/or" choice between dogmatic atheism and religious traditionalism. Recommended for all readers engaged in consideration of our notions of God."—Library Journal

"The Evolution of God offers the sort of hope even unbelievers can believe in: that we can somehow learn to talk about religion."—Stephen Prothero, The Washington Post

"Can religions in the modern world reconcile themselves to one another, and can they reconcile themselves to science?" Robert Wright-journalist, philosophy professor, and author of the acclaimed books Nonzero, and The Moral Animal-ardently believes the answer is yes. In this meaty account, the result of 10 years of scholarly research, he attempts to do so, drawing on evolutionary psychology, archaeology, and game theory to trace a common pattern in the world's monotheistic faiths. It's a thoroughly materialist account of religion and yet is ultimately allied with one of religion's basic goals: to provide guidance and comfort in a chaotic world."—Seed Magazine

"[The Evolution of God] gives me hope...The tone of the book is dry skepticism with a dash of humour; the content is supple, dense and layered...fresh and necessary."

—Andrew Sullivan, The Times

PRAISE FOR NONZERO:

"An original, accessible and thought-provoking view of history...full of rich detail, ingenious insight and bold argument."—The Economist
Book Videos