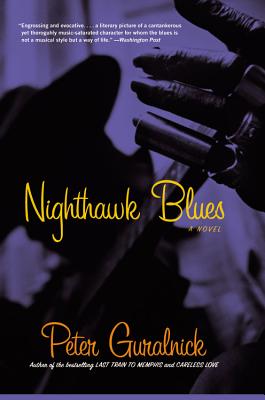 Nighthawk Blues
A Novel
Paperback

* Individual store prices may vary.
Description
Peter Guralnick—in this, his only novel to date—draws on his rich storytelling skills and his intimate knowledge of music to create an an unforgettable character, and to give us an "engrossing, evocative" (Washington Post) look at the blues life.

The Screamin' Nighthawk is a legendary bluesman, an uncompromising musician, and a cantankerous old man awash in memories of road trips and one-night stands, recording sessions and barroom escapades, love affairs and driven, inspired, down-home music making. As Hawk travels back down Highway 61 to Yola, Mississippi, for what may be his last gig, the novel immerses us in the world of Hawk, his friends and family, the nursemaid manager he craftily evades, and the beautiful young blues singer who alone can crack Hawk's crusty exterior.
Praise For Nighthawk Blues: A Novel…
"Guralnick clearly knows his stuff. The Nighthawk is brought alive—a little dirty, smelly, obstinate, and sexy, hateful to his enemies, who are all over the place and never forgotten, still in love with all the women he ever bedded...Anyone who likes Studs Terkel and George V. Higgins, who enjoys the headlong pace, will enjoy Nighthawk Blues."—Frank Pierson, Los Angeles Times

"There's a finely tuned sensibility at work in Nighthawk Blues...Guralnick has fashioned a portrait that reveals his subject's nobility through humanizing rather than glorifying him."—Don McLeese, Chicago Reader

"Engrossing and evocative...A literary picture of a cantankerous yet thoroughly music-saturated character for whom the blues is not a musical style but a way of life."—Harry Sumrall, Washington Post

"Unlike most efforts to explicate the mystery, majesty, and urgency of the blues, this book is grounded in a black voice—the ornery, weathered, contradictory, restless voice of the Screamin' Nighthawk...Guralnick takes a larger-than-life mythos and grounds it within the humble boundaries of tar-paper shacks and dirt roads, feverish one-night stands and jugs of demon whiskey."—Steve Dollar, Atlanta Journal-Constitution

"A true love story full of pleasure as well as pain."—Walter Carter, Nashville Tennessean

"An ambitious novel...Refreshingly different from the usual run of music fiction."—Simon Frith, Boston Phoenix

"An exceptional book...In Nighthawk Blues Guralnick reaches for the most elusive goal of anyone who writes about music this passionate and complex—to make the reader feel the power of the blues, and the joy it offers."—Franklin Jones, Jackson Sun
Back Bay Books, 9780316735728, 256pp.
Publication Date: October 1, 2003
About the Author
Peter Guralnick's books include the prize-winning two-volume biography of Elvis Presley, Last Train to Memphis and Careless Love. He is a recent inductee in the Blues Hall of Fame. He is also the author of an acclaimed trilogy on American roots music, Feel Like Going Home, Lost Highway, and Sweet Soul Music; the biographical inquiry Searching for Robert Johnson; Dream Boogie: The Triumph of Sam Cooke; and Sam Phillips: The Man Who Invented Rock 'n' Roll. His most recent book is Looking to Get Lost: Adventures in Music and Writing.