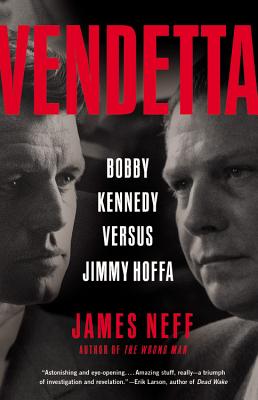 Vendetta
Bobby Kennedy Versus Jimmy Hoffa
Hardcover

* Individual store prices may vary.
Other Editions of This Title:
Digital Audiobook (7/6/2015)
Paperback (7/5/2016)
Hardcover, Large Print (1/6/2016)
Compact Disc (7/7/2015)
MP3 CD (7/7/2015)
Compact Disc (7/7/2015)
Description
One of America's greatest investigative reporters brings to life the gripping, no-holds-barred clash of two American titans: Robert Kennedy and his nemesis Jimmy Hoffa.

From 1957 to 1964, Robert Kennedy and Jimmy Hoffa channeled nearly all of their considerable powers into destroying each other. Kennedy's battle with Hoffa burst into the public consciousness with the 1957 Senate Rackets Committee hearings and intensified when his brother named him attorney general in 1961. RFK put together a "Get Hoffa" squad within the Justice Department, devoted to destroying one man. But Hoffa, with nearly unlimited Teamster funds, was not about to roll over.

Drawing upon a treasure trove of previously secret and undisclosed documents, James Neff has crafted a brilliant, heart-pounding epic of crime and punishment, a saga of venom and relentlessness and two men willing to do anything to demolish each other.
Praise For Vendetta: Bobby Kennedy Versus Jimmy Hoffa…
"From the violence of its gripping opening to the sorrow of its close, this is an astonishing and eye-opening account of the vendetta--obsessive, intrigue-filled, hatred-tinged--that pitted Robert F. Kennedy against Teamster boss Jimmy Hoffa, and nearly consumed both. Amazing stuff, really--a triumph of investigation and revelation."
—
Erik Larson, author of Dead Wake
"If you think you know it all, you don't. James Neff has turned Bobby Kennedy's headline-making clash with Jimmy Hoffa into a psychological thriller about two tough, powerful and vengeful men who fought with all they had, exhausting both. This is not a book about a good bobby versus a bad hoffa. It is a study of two men who always got what they wanted staging a shootout on the streets of Laredo. And, as Neff tells it, there were no winners."
—
Seymour M. Hersh, winner of the Pulitzer Prize
"
Vendetta
is an exciting and compelling account of the titanic struggle between Robert Kennedy and Jimmy Hoffa, one of the most extraordinary battles between the forces of good and evil in recent American history. With a master investigator's eye and a novelist's flair, James Neff makes the Kennedy-Hoffa duel come alive with many new historical insights and with all the blood and muscle of these two unforgettable men. If you ever wondered what it would be like to work with Robert Kennedy, the young hard-driving idealistic investigator of corruption, this book is for you."—
Thomas Maier, author of When Lions Roar: The Churchills and the Kennedys
"Neff...captures the tension and hatred between [Hoffa and Kennedy] in this impressively researched page-turner....This enthralling account, based mostly on archival research, will appeal to Kennedy followers, true crime fans, and students and scholars of modern American history."
—
Library Journal (starred review)
"Neff brilliantly weaves this fascinating narrative with newly released material.... As riveting as any courtroom thriller, except this is real.... Neff's masterly study of this intensely personal conflict is as engrossing as it is irresistible."
—
Kevin J. Hamilton, The Seattle Times
"Neff's staccato writing style -- short declarative sentences -- reflects a skilled newspaper journalist. It's probably wrong to feel nostalgic about an era of raw corruption and violence in the labor movement. But the story of Kennedy and Hoffa, in Neff's telling, makes a compelling read."
—
Bill Barnhart, Chicago Tribune
"Neff covers the ensuing cat-and-mouse game with aplomb and panache.... He sprinkles the book with colorful language that artfully evokes Hoffa, the swaggering tough guy, and Kennedy, the laser-focused lawman eager to make his mark, without turning them into caricatures.... Neff's terrific incorporation of a multitude of personalities from both sides of the courtroom results in a page-turner that adds greater nuance and depth to both men's legends."
—
Publishers Weekly
"Neff succeeds in shinning a light on one of the darker corners of American history.... Reads like a spy novel.... The sordid, sweeping history of what Kennedy insider Pierre Salinger dubbed ' a blood feud.'"
—
Kirkus
"Neff's account of Kennedy's and Hoffa's vengeful crimes and strategies is unexpectedly thrilling, but he deftly avoids caricaturing the two men."
—
Christian Science Monitor
"
Vendetta
is full of fascinating depictions of corruption and political pressure, but its real draw lies in the titanic personal struggle at its center. That struggle acquires a cinematic flair as each man's fortunes rise and fall dramatically, with each of their lives ending in such a way as to fuel retroactive mythmaking. Neff tells a compelling real-life story about men who have acquired the patina of legends."
—
Hank Stephenson, Shelf Awareness
An "engrossing account of this epic showdown.... Mr. Neff's book succeeds partly because he avoids casting the battle in black and white."
—
James P. Kelly, Wall Street Journal
"A gripping, no-holds-barred examination of two titanic American legends.... Reading like a spy thriller, this slice of Americana is a true page turner."
—
Susanne Jaffe, The Columbus Dispatch
"Highly revealing and detailed... Vendetta is a gritty, intense drama that sharply illuminates one of the darker episodes of American history."
—
Chris Patsilelis, Tampa Bay Times
"Neff's reportage is impressive; he digs into the history on a granular level, often tracking Kennedy and Hoffa down to the minute, and his writing is propulsive enough to make even the driest courtroom passages flow like a thriller."
—
Paul Constant, Seattle Review of Books
"An epic tale of ambition and the struggle for power... Neff has imbued what could have been an arid account of courtroom and hearing room proceedings with the vivid human drama that brings these characters and their titanic battle back to life."
—
Harvey Freedenberg, Book Reporter
"
Vendetta
makes it clear that crime sometimes pays very well, and that justice can be anything but swift. It can also make for highly entertaining reading."—
Heather Seggel, BookPage
Little, Brown and Company, 9780316738347, 384pp.
Publication Date: July 7, 2015
About the Author
James Neff has overseen multiple Pulitzer Prize-winning series as investigations editor at the Seattle Times. The author of The Wrong Man, Unfinished Murder, and Mobbed Up, he lives in the Seattle area.
Coverage from NPR
or
Not Currently Available for Direct Purchase