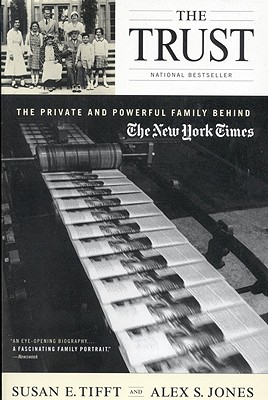 The Trust (Paperback)
The Private and Powerful Family Behind The New York Times
Back Bay Books, 9780316836319, 928pp.
Publication Date: September 20, 2000
* Individual store prices may vary.
Description
A National Book Critics Circle Award finalist, The Trust is the "eye-opening" biography (Newsweek) the Ochses and the Sulzbergers, the families that have owned and run The New York Times for more than a century.
Throughout the tumultuous "American century," a single family has controlled America's newspaper of record, setting the agenda not only for the New York Times but for the nation as well. In a narrative that dramatically, evokes world events, internecine struggles, and both the privilege and the burden of wealth and influence, The Trust reveals for the first time the extraordinary story of one of America's most powerful families.
"A lively, lavishly detailed epic...The authors have the journalist's instinct for telling the right story." --Ron Chernow, New York Times Book Review
About the Author
Susan E. Tift and Alex S. Jones are also the authors of The Patriarch: The Rise and Fall of the Bingham Dynasty. Ms. Tift was an associate editor at Time. Mr. Jones covered the press from 1983 to 1992 for the New York Times, where he won a Pulitzer Prize.
Praise For The Trust: The Private and Powerful Family Behind The New York Times…
"An excellent biography, thoroughly researched, important for an understanding of a great institution -- and more entertaining than any soap."—Harold Evans, Los Angeles Times Book Review

"A masterful telling of the complex history of a family that for more than 100 years has with conscience stewarded a cultural touchstone."—Sherryl Connelly, New York Daily News