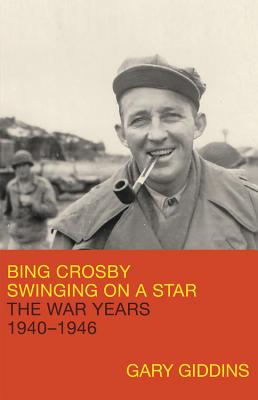 Bing Crosby
Swinging on a Star: The War Years, 1940-1946
Hardcover

* Individual store prices may vary.
Other Editions of This Title:
Digital Audiobook (10/25/2021)
Digital Audiobook (6/21/2005)
MP3 CD (10/1/2001)
Description
"The best thing to happen to Bing Crosby since Bob Hope," (WSJ) Gary Giddins presents the second volume of his masterful multi-part biography.

Bing Crosby dominated American popular culture in a way that few artists ever have. From the dizzy era of Prohibition through the dark days of the Second World War, he was a desperate nation's most beloved entertainer. But he was more than just a charismatic crooner: Bing Crosby redefined the very foundations of modern music, from the way it was recorded to the way it was orchestrated and performed.

In this much-anticipated follow-up to the universally acclaimed first volume, NBCC Winner and preeminent cultural critic Gary Giddins now focuses on Crosby's most memorable period, the war years and the origin story of White Christmas. Set against the backdrop of a Europe on the brink of collapse, this groundbreaking work traces Crosby's skyrocketing career as he fully inhabits a new era of American entertainment and culture. While he would go on to reshape both popular music and cinema more comprehensively than any other artist, Crosby's legacy would be forever intertwined with his impact on the home front, a unifying voice for a nation at war. Over a decade in the making and drawing on hundreds of interviews and unprecedented access to numerous archives, Giddins brings Bing Crosby, his work, and his world to vivid life -- firmly reclaiming Crosby's central role in American cultural history.
Praise For Bing Crosby: Swinging on a Star: The War Years, 1940-1946…
Someone has to make the case for Crosby's historical importance-and fortunately for Bing, Gary Giddins has taken up the gauntlet with surprising vehemence. Mr. Giddins is one of the leading music critics of the last half-century."—Ted Gioia, Wall Street Journal

Praise for Bing Crosby: A Pocketful of Dreams

"Gary Giddins may be the best thing to happen to Bing Crosby since Bob Hope.... Crosby couldn't have hoped for a finer biographer: elegant writer, informed historian, thorough scholar, and one of America's most eminent jazz critics."—John McDonough, Wall Street Journal

"This is, quite simply, the best-researched, best-written, most entertaining music biography I've read."—Merrill Noden, Mojo

"In Volume 2 of his Churchillian-scale chronicle, [Giddins] magnifies six years that confirm Crosby's primacy among the searchlights of American music and identity. The word "definitive" seems petite. Presumably, further volumes are coming...In Giddins care, they likely will be equally compelling in their context. But the war years period has a glory that seems to live in a precious "Golden age" of the imagination."—Downbeat Magazine

"Phenomenal smarts and critical acumen.... A formidable biographer and exegetical wonder, Gary Giddins is so persuasive that even the most skeptical post-Boomer should close the book with the eerie sensation that it's Bing's world after all--we just live in it."—James Marcus, Atlantic Monthly

"Giddins packs exhaustive research and detail into his sprawling narrative while keeping the prose relaxed and vivid, and sprinkles in shrewd critical assessments of Crosby's music and films. Crosby emerges as an aloof, cool cat, and Giddins's engrossing show-biz bio richly recreates the popular culture he helped define."—Publishers Weekly, starred review

"It's been almost 18 years since the publication of Bing Crosby: A Pocketful of Dreams, Gary Giddins's intelligent and formidably well-informed biography covering the entertainer's life from his birth in 1903 through the film that launched his mega-grossing partnership with Bob Hope. Bing Crosby: Swinging on a Star was the worth the wait. [An] evocative portrait of a man and a historical moment."
—The Washington Post

"A deeply researched and thoroughly engrossing biography that confirms Crosby's essential role in the history of American music and film during a crucial period of the 20th century....Impressively maintains a balanced view of Crosby's complex character: an affable, hardworking performer admired by his peers and audience but also a man with values and ideas representative of his generation and piously Catholic upbringing. Ultimately, the author establishes Crosby's relevancy as an indisputable talent worth fair consideration from future generations.
—Kirkus, starred review

"For a twenty-firstcentury audience, the idea of Bing Crosby as both a swoonworthy movie idol and an inspiration to battlehardened soldiers may seem difficult to comprehend, but that is the brilliance of Giddins' work: he makes us see how, in a very different time, Crosby's easygoing, waggish style was just what the country craved, on records and radio, at the movies, and in person. Tony Bennett may have said it best: "Bing taughteveryone to relax."

—Bill Ott, Booklist starred review

Selected as for "The Best Books of 2018" list—Publishers Weekly

"Gary Giddins practically knows more about Bing Crosby than Bing Crosby knew about Bing Crosby."—Spokane Spokesman

"Crosby's biographer Gary Giddins had choices to make. A formidable scholar of jazz and popular song, Giddins is certainly the man for the job...he lays his findings out with impressive clarity. Giddins guides us past...minefields in brisk, lucid prose, as smoothly controlled as a Crosby performance. His scholarship and thoroughness earn the highest marks."—New York Times Book Review

"Expectation was that Giddins would shape a companion volume covering the rest of Crosby's life. Instead, part two of what will ultimately stand as the definitive Crosby analysis and appreciation covers just seven years. As Giddins so superbly demonstrates, more than any other period, the stretch from the early- to mid-1940s was not only Crosby's most influential but also served to shape a canonized public persona that lasted his lifetime. Everyone thought they knew him. Few really did. As Dinah Shore observed, 'Bing was great [but] he wouldn't let you see that deeply into his soul.' Giddins may be the first to penetrate soul-deep."
—Jazz Times

"Giddins traced Crosby's ascendant career arc and the milieu that framed it in clear, declarative prose."—The Barnes and Noble Review

"It's enough to make you eager for the third installment."—Dallas Morning News

"Swinging on a Star defines and solidifies Crosby's stature as a transcendent American original, beyond his annual Christmas revival."—The Pittsburgh Post-Gazette
Little, Brown and Company, 9780316887922, 736pp.
Publication Date: October 30, 2018
About the Author
Gary Giddins wrote the Weather Bird jazz column in the Village Voice for over 30 years and later directed the Leon Levy Center for Biography at the CUNY Graduate Center. He received the National Nook Critics Circle Award, the Ralph J. Gleason Music Book Award, and the Bell Atlantic Award for Visions of Jazz: The First Century in 1998.

His other books include Bing Crosby: A Pocketful of Dreams-The Early Years, 1930-1940, which won the Ralph J. Gleason Music Book Award and the ARSC Award for Excellence in Historical Sound Research; Weatherbird: Jazz at the Dawn of Its Second Century; Faces in the Crowd; Natural Selection; Warning Shadow; and biographies of Louis Armstrong and Charlie Parker. He has won six ASCAP-Deems Taylor Awards, a Guggenheim Fellowship, and a Peabody Award in Broadcasting. He lives in New York, NY.
Coverage from NPR