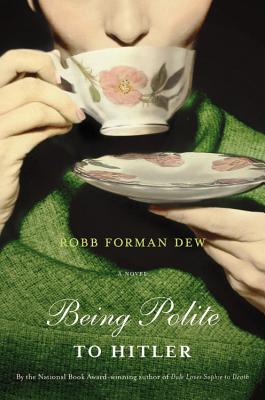 Being Polite to Hitler (Hardcover)
Little, Brown and Company, 9780316889506, 304pp.
Publication Date: January 1, 2011
* Individual store prices may vary.
or
Not Currently Available for Direct Purchase
Description
After teaching and raising her family for most of her life, Agnes Scofield realizes that she is truly weary of the routine her life has become. But how, at 51, can she establish an identity apart from what has so long defined her?

Often eloquent, sometimes blunt, and always full of fire, The Scofield clan is not a family that keeps its opinions to itself. As much as she'd like to, Agnes can no more deflect their adamant advice than she can step down as their matriarch. And despite her newfound freedom, Agnes finds herself becoming even more entangled in the family web. She shepherds her daughter-in-law, Lavinia, who moves in with her own two daughters to escape her husband's drinking. She puts out fires, smoothes fraying nerves, and, stunned as anyone, receives a marriage proposal. Having expected her life to become smaller, Agnes is amazed to see it grow instead.

Robb Forman Dew intricately weaves together personal and family life into a richly wrought tapestry of the country in the 1950s and beyond. Being Polite to Hitler is a moving, frank, and surprising portrait of post-World War II America.
About the Author
Robb Forman Dew was born in Mount Vernon, Ohio, and grew up in Baton Rouge, Louisiana. For the past thirty years she has lived in Williamstown, MA, where she lives with her husband, who is professor of history at Williams College. The recipient of a Guggenheim Fellowship, Dew is the author of the novels Dale Loves Sophie to Death, for which she received the National Book Award; The Time of Her Life; Fortunate Lives; The Evidence Against Her; and, most recently, The Truth of the Matter; as well as a memoir, The Family Heart.
Praise For Being Polite to Hitler…
"Robb Forman Dew is a master at delineating the way the mundane and profound are joined at the hip, and Being Polite to Hitler in its portrait of midcentury America shuttles us smoothly from the most intimate heartbreak to events of interest worldwide, reminding us of the nearly infinite variations of grief, and solace, and how even the most conscientious and compassionate can leave emotional havoc in their wake."
-Jim Shepard, author of Like You'd Understand, Anyway

"Robb Forman Dew is one of our great national treasures: a novelist whose keen and sympathetic understanding of human nature is matched by her elegant, beautiful prose. Being Polite to Hitler is an absorbing story in which many readers will find their own families, and their own selves."
-Dani Shapiro, author of Family History and Devotion: A Memoir

"Dew's quietly powerful tale is riveting."
-Good Housekeeping

"Dew follows 54-year-old Agnes Scofield through the 1950s, 1960s and 1970s, as she reinvents herself, navigating both the mine fields of rapidly changing country and family. Every sentence is a rhapsody.''
-The Miami Herald

"And this is what Being Polite to Hitler is all about: a 20-year sliver of Agnes Scofield's life. Robb Forman Dew, who won a National Book Award in 1982 for Dale Loves Sophie to Death, has captured again, beautifully, the poetry of the everyday. Her narrative flows effortlessly from character to character, from voice to voice, as does her sense of time, from present to future to past and back again.... Dew's elegant words capture personalities so well, as well as setting.... In Being Polite to Hitler, with lush, graceful language, Robb Forman Dew reminds us that much of what we consider to be ordinary in our lives, in the end, turns out to be quite extraordinary."
-The Minneapolis Star-Tribune

"highly original.... Robb Forman Dew covers both the cosmic and the quotidian as she follows a formidably intermingled group of people in the town of Washburn, Ohio. The novel, which resides mostly in the 1950s until an acceleration near the end yanks everyone all the way up to 1973, beautifully chronicles the experiences of a widowed schoolteacher, Agnes Scofield, and those in her midst.... Dew's novels identify and describe not just a town and its people but the American mind-set at particular moments in time.... Dew also sprinkles her storytelling with inventively apt asides, as when a character explains how a dog's stomach can spontaneously twist, "the way a lemon drop is wrapped." This sort of casual juxtaposition is ingenious and surprising. Being Polite to Hitler is a deeply knowing novel--progressive, certainly, and at times quietly, thrillingly strange."
-New York Times Book Review

"If you've been reading Robb Forman Dew these many years, fiction and nonfiction, you know that she is, like her main character Agnes Scofield, the consummate matriarch. There is beauty and order in her sentences and in the lives of her characters. There is trauma, pain and uncertainty but also a community of spirit beneath all of her books.... This novel shows why history is supplemented and often surpassed by fiction, by the fleshing out, the empathy, the imagining of lives lived and lost in the not-so-distant past."
-Los Angeles Times

"a remarkable achievement, a vividly detailed and deeply textured mural of a century of American life.... Dew deploys a dazzling number of narrative perspectives.... Dew zooms into the hearts and minds of her characters with the kind of acuity that reminds us why we read.... Throughout the novel, Dew renders the political personal and the personal incandescent."
-The Washington Post
Book Videos
Advertisement