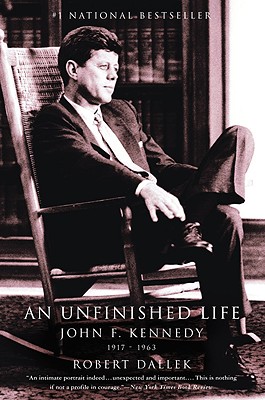 An Unfinished Life (Paperback)
John F. Kennedy, 1917 - 1963
Back Bay Books, 9780316907927, 848pp.
Publication Date: May 4, 2004
Other Editions of This Title:
Digital Audiobook (7/31/2005)
Hardcover (5/1/2003)
* Individual store prices may vary.
Description
The #1 bestseller that forever changed how we thought about JFK, published with a new epilogue in time for the 50th anniversary of Kennedy's assassination.

When it was originally published in 2003, AN UNFINISHED LIFE brought to light new revelations about JFK's health, his love affairs, his brothers and father, and the path JFK would have taken in the Vietnam entanglement if he had survived. A blockbuster bestseller, the book was embraced by critics and readers as a landmark assessment of our 35th president. Now, in time for what promises to be remarkable media attention on Kennedy's death and legacy, AN UNFINISHED LIFE returns with a new, strikingly incisive examination by Robert Dallek in which he further assesses JFK's impact and hold on American culture.
About the Author
Robert Dallek is one of the most highly regarded historians in America today and the author of more than a dozen books, including his two-volume biography of Lyndon Johnson, Lone Star Rising and Flawed Giant, and Nixon and Kissinger. Currently a faculty member at Stanford University's prestigious Washington program, he has also taught at Boston University, Columbia University, UCLA and Oxford.
Praise For An Unfinished Life: John F. Kennedy, 1917 - 1963…
"Comprehensive, judicious, evenhanded, original. An Unfinished Life has the sober judgment and nuanced accuracy that make it ring true in all the controversial and tricky parts."—Jack Newfield, Los Angeles Times

"An intimate portrait indeed . . . unexpected and important. . . . This is nothing if not a profile in courage."—Ted Widmer, New York Times Book Review

"It's hard to believe that someone could find anything new to say about John F. Kennedy, but Dallek succeeds in this riveting and well-documented biography."—The New Yorker

"One of the most engrossing biographies I have ever read. . . . An Unfinished Life is nothing less than a masterpiece."—David Herbert Donald, author of Lincoln

"Neither debunking nor further mythologizing, Dallek fashions a balanced but fast-paced tale of sex and power that scribes from Shakespeare to Jacqueline Susann would have killed for."—Steve Dougherty, People