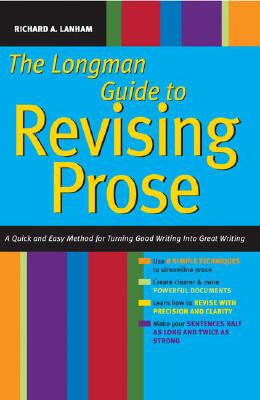 Longman Guide to Revising Prose (Paperback)
A Quick and Easy Method for Turning Good Writing Into Great Writing
Longman Publishing Group, 9780321417664, 136pp.
Publication Date: November 1, 2006
* Individual store prices may vary.
Description
"True to its title, Revising Prose is about revising, not about original composition. It will not teach you how to pray for inspiration, marshall your thoughts, or find the willpower to glue backside to chair. All writers face these dragons in their own idiosyncratic ways. But revision belongs to the public domain. Anyone can learn it. Revising Prose teaches you how, using a simple, rule-based, eight-step process called "The Paramedic Method" that concentrates on turning the bureaucratic official style so common today in business and government writing into plain English. Its focus on the individual sentence enables you to identify the surplus verbiage (what Lanham calls the Lard Factor) in an effort like this:
The history of new regulatory provisions is that there is generally an immediate resistance to them.
And turn it into this:
People usually resist new regulations.
A Lard Factor of 69%. Lanham's method aims to eliminate 50% from most writing, to create a sentence half as long and twice as strong. A saving of 50% in writing time, in reading time, in paper and screen space, in human patience and understanding-it all adds up to real money. It also adds up to a more persuasive and amiable presentation of self, as Revising Prose argues in its final chapter.
"

or
Not Currently Available for Direct Purchase